Jalapeño Fries AKA Jalapeño Strips are crunchy, not too spicy and I can't get enough of these babies. No one can eat just one!
I recently spent a week with my 86-year-old dad and I took him a slice of my Chocolate Mounds Cake and he loved it. I wish I would have baked him an entire cake. It's that good!
On Thursday, my dad, my younger brother (he works 3 weeks on, 1 week off and happened to be off that week) and I had lunch with my oldest brother and sister-in-law.
When we visit, my brother always fries his famous sea trout with all the fixings, including hushpuppies. My sister-in-law always has the best sides. This time around she included jalapeño fries and I couldn't stop eating them. These are right up my alley!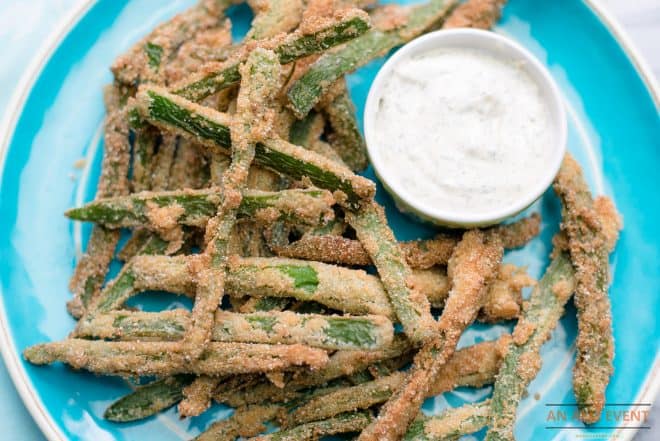 Jalapeño Fries (or Jalapeno Strips – whatever you want to call them) are so easy to make. I kinda took off in my own direction to recreate these and these fries are the perfect side dish or party dish.
Jalapeño Fries
To make the fries you will need:
Buttermilk
Egg
Cornmeal Mix
Peanut Oil (or vegetable oil)
8-10 Jalapeno Peppers (stemmed, seeded, and cut into 1/4″ strips)
Note: Most of the heat from jalapenos are found in the veins and seeds. Many times, the flesh of the jalapeno is not hot at all. Other times, they pack a little heat even with the seeds and veins removed.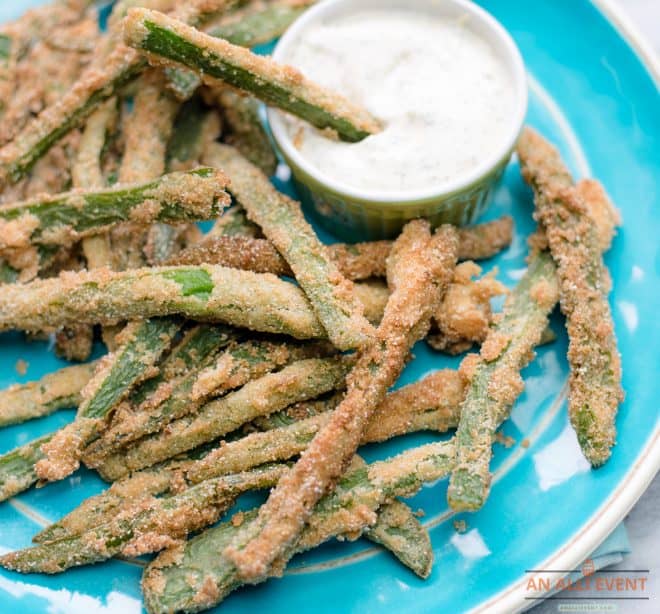 Homemade Ranch Dressing Mix
You don't want to serve a spicy dip with these Jalapeño Fries. Homemade Ranch (without the added MSG from the packaged kind) is the perfect dip.
You'll need:
Buttermilk
Mayonnaise
Sour Cream
Dried Chives
Dried Parsley
Dill Weed (dried)
Garlic Powder
Onion Powder
Ground Black Pepper
Kosher Salt
I always combine the dry ingredients in a container with a lid because you won't use all the dry ingredients.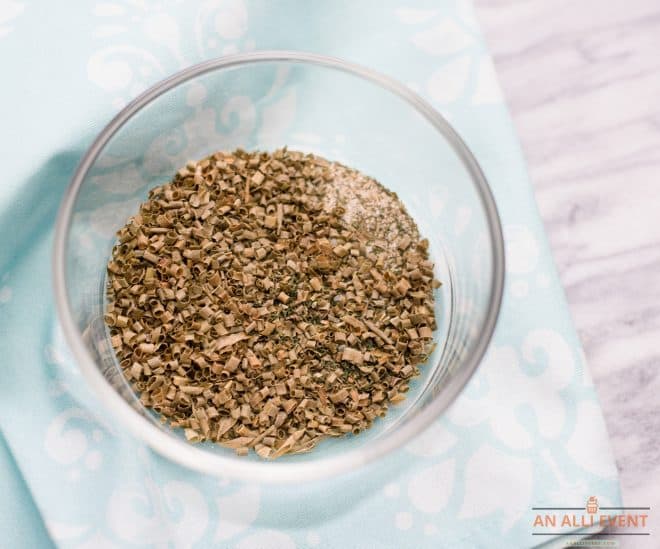 Just stir in 2 Tablespoons of the dried mix with the buttermilk, mayonnaise, and sour cream. Chill until ready to serve. The dip will keep in the fridge for several days.
You May Also Like These Delicious Recipes
Yield: 4-6 servings
Jalapeño Fries With Homemade Ranch Dressing Dip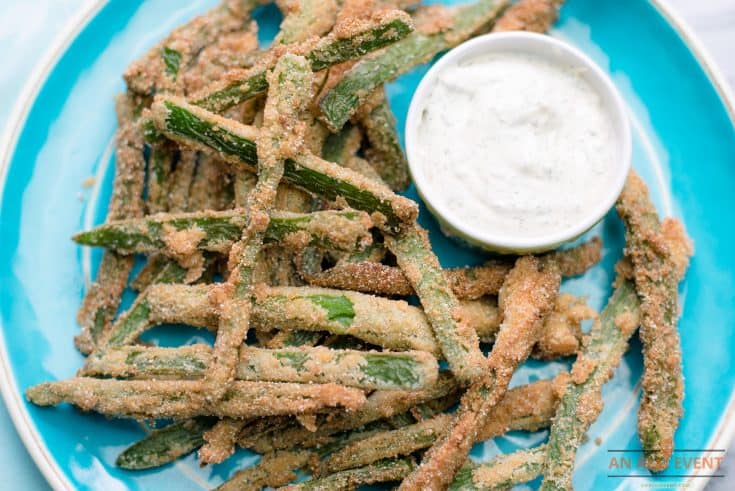 Jalapeño Fries are crunchy and delicious. These fries can be served as a side dish or appetizer. The homemade ranch dressing dip pairs perfectly with the fries.
Ingredients
Jalapeño Fries
Peanut Oil (for frying)
1/2 cup buttermilk
1 large egg
1 cup cornmeal mix
10 Jalapeño peppers (stemmed, seeded and cut into 1/4" strips)
Homemade Ranch Dressing Dip
1/4 cup buttermilk
1/2 cup mayonnaise
1/2 cup sour cream
2 Tablespoons dried chives
2 Tablespoons dried parsley
1 teaspoon garlic powder
3 teaspoons dried dill weed
1 teaspoon onion powder
1 teaspoon kosher salt
1/2 teaspoon black pepper
Instructions
Add 1" peanut oil to a skillet or dutch oven. Heat to 365º F.
Whisk buttermilk and egg together in a shallow bowl. Add the cornmeal mix to another bowl.
Dip the jalapeños into the buttermilk and let the excess drip off. Then coat the strips in the cornmeal mix.
Add the strips to the oil and fry in batches until golden brown, about 1-2 minutes. Don't overcrowd the strips.
To make the dip, combine all the dry ingredients in a container with a lid.
Combine the buttermilk, mayonnaise, and sour cream in a bowl. Whisk 2 Tablespoons of the dry mix into the buttermilk mixture. Serve immediately or chill until ready to serve.
Nutrition Information
Yield
6
Serving Size
1
Amount Per Serving
Calories

294
Total Fat

22g
Saturated Fat

5g
Trans Fat

0g
Unsaturated Fat

15g
Cholesterol

51mg
Sodium

1006mg
Carbohydrates

21g
Fiber

3g
Sugar

3g
Protein

5g