One of my favorite restaurants is Joe's Stone Crab in Miami (not to be confused with Joe's Crab Shack). Will Smith once said that Joe's was his favorite place to eat. I happen to love Joe's Stone Crab Key Lime Pie.
For one hundred years, Miami natives and tourists have dined alongside celebrities including Frank Sinatra, Muhammad Ali, and Jennifer Lopez. Joe's has been a south beach institution since 1913 and it's one of the top 10 must-visit restaurants in Florida!
My husband loves the stone crabs and the key lime pie. I love the key lime pie! Joe's is really famous for their key lime pie and I finally perfected it (as close as it can be).
Next time you're in SoBe, be sure and find time to visit Joe's and try the Key Lime Pie. It's cold and tart. It's creamy and delicious. (Or, just stay home and make mine!) Joe's has limited summer hours, so check before you go. Here's the address:
11 Washington Ave
Miami Beach, Florida 33139
305-673-0365
www.joesstonecrab.com
Ingredients At A Glance – Joe's Stone Crab Key Lime Pie
(Scroll down for the full printable recipe card)
egg yolks
lime zest
sweetened condensed milk
fresh key lime juice
Graham Cracker Crust:
graham cracker crumbs
granulated sugar
melted butter
Whipped Cream (Optional Topping)
1 cup heavy whipping cream
2 Tablespoons sugar
I actually made mini key lime pies as an early birthday surprise for my son-in-law because I knew I would be out of the country on his birthday. He simply loves these! And I'm up for the mother-in-law of the year award.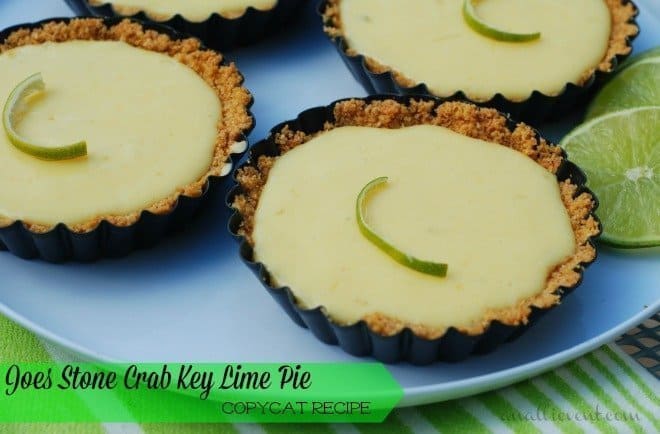 Yield: 8 servings
Key Lime Pie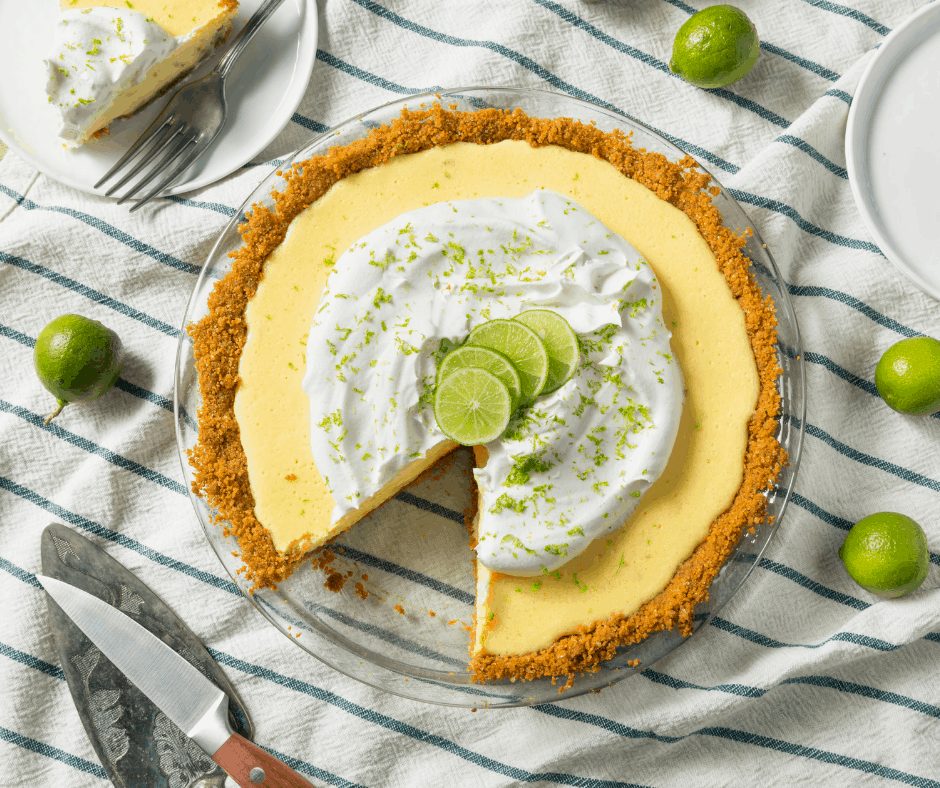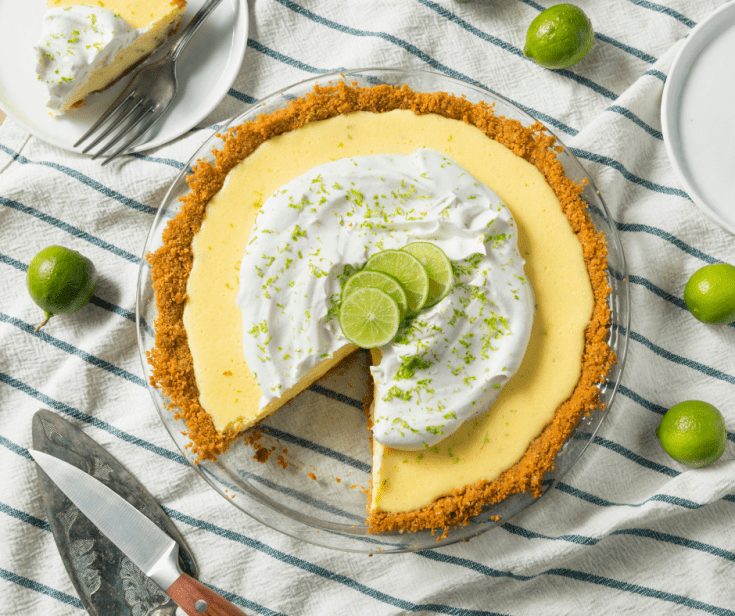 Key Lime Pie is made with fresh key lime juice. It has a creamy tart-sweet filling and topped with homemade whipped cream.
Ingredients
3 egg yolks
2 tsp. lime zest
1 (14 oz.) can sweetened condensed milk
2/3 cup fresh key lime juice
For the crust:
1-1/2 cup graham cracker crumbs
3 Tablespoons granulated sugar
1/3 cup butter, melted
Whipped Cream
1 cup heavy whipping cream
2 Tablespoons granulated sugar
Instructions
To make crust, mix the graham cracker crumbs, sugar and melted butter together and press firmly to bottom and sides of pie plate. Set aside.
Preheat oven to 350º F.
In a mixer with wire whisk, beat egg yolks and lime zest on high speed until very fluffy (about 5 minutes).
Gradually add the condensed milk and beat 3-4 minutes longer. Lower speed and gradually add the lime juice until combined.
Pour into crust and bake 10 minutes. Cool and then refrigerate until well chilled.
Top with whipped cream, if desired.
Whipped Cream
Place a metal mixing bowl and whisk in the freezer for 10 minutes.
Remove from the freezer and place sugar and heavy whipping cream in the bowl. Whip until the cream reaches stiff peaks. Be careful not to over-whip.
Nutrition Information
Yield
8
Serving Size
1 slice
Amount Per Serving
Calories

330
Total Fat

23g
Saturated Fat

13g
Trans Fat

1g
Unsaturated Fat

8g
Cholesterol

125mg
Sodium

174mg
Carbohydrates

30g
Fiber

1g
Sugar

17g
Protein

4g
Helpful Hint: You can also buy a ready-made graham cracker crust or bake them in small pans like I did the last time I made this pie. I make it often!
Always Use Freshly Squeezed Lime Juice
Never use bottled lemon or lime juice when making a pie. It will give it an artificial, yucky taste. And if you don't have key limes on hand, go ahead and use the juice from regular limes. It's not quite the same, but really close.
Key limes are not just limes grown in the keys. Actually, they are a specific variety of lime and more aromatic and more tart than regular limes. Read all about key limes here!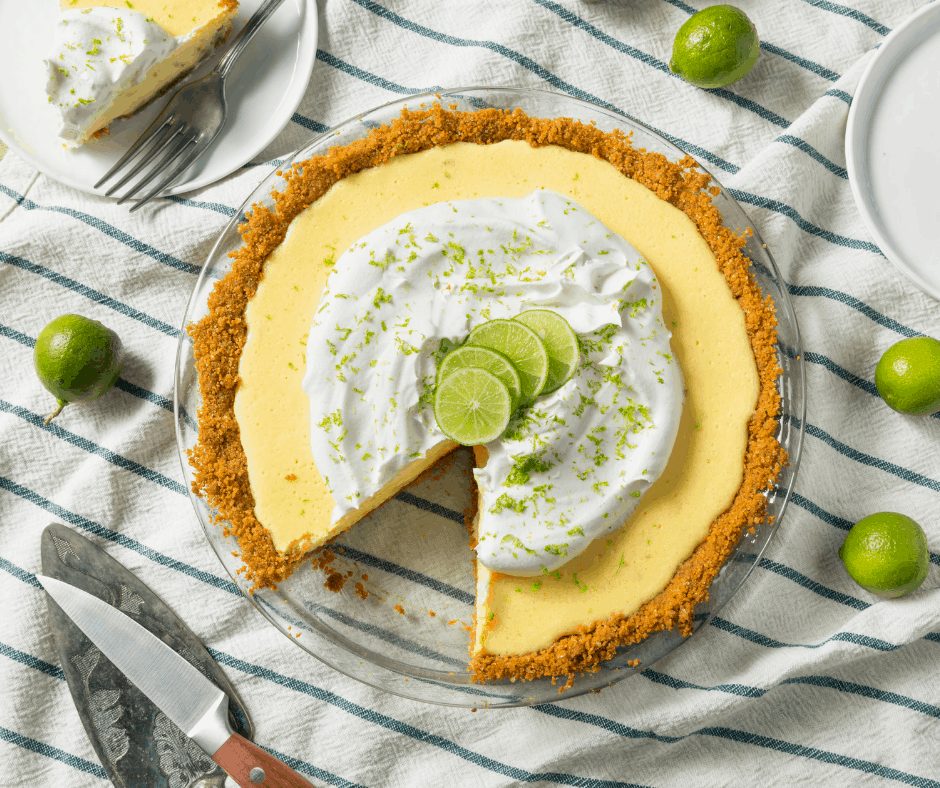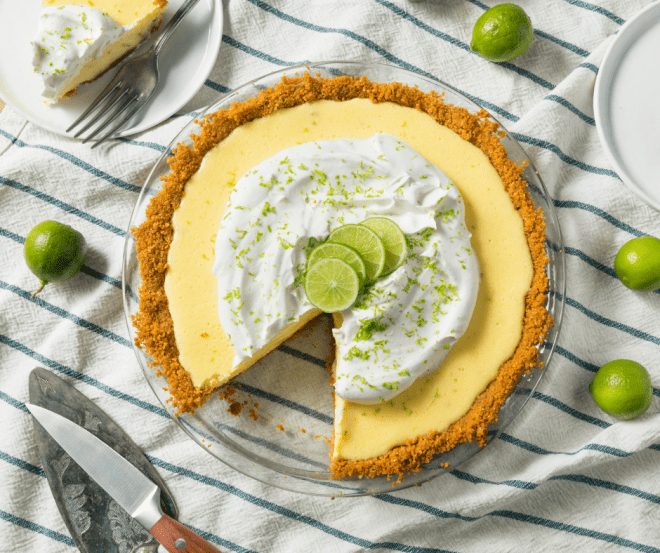 Time to give it up! What's your favorite pie?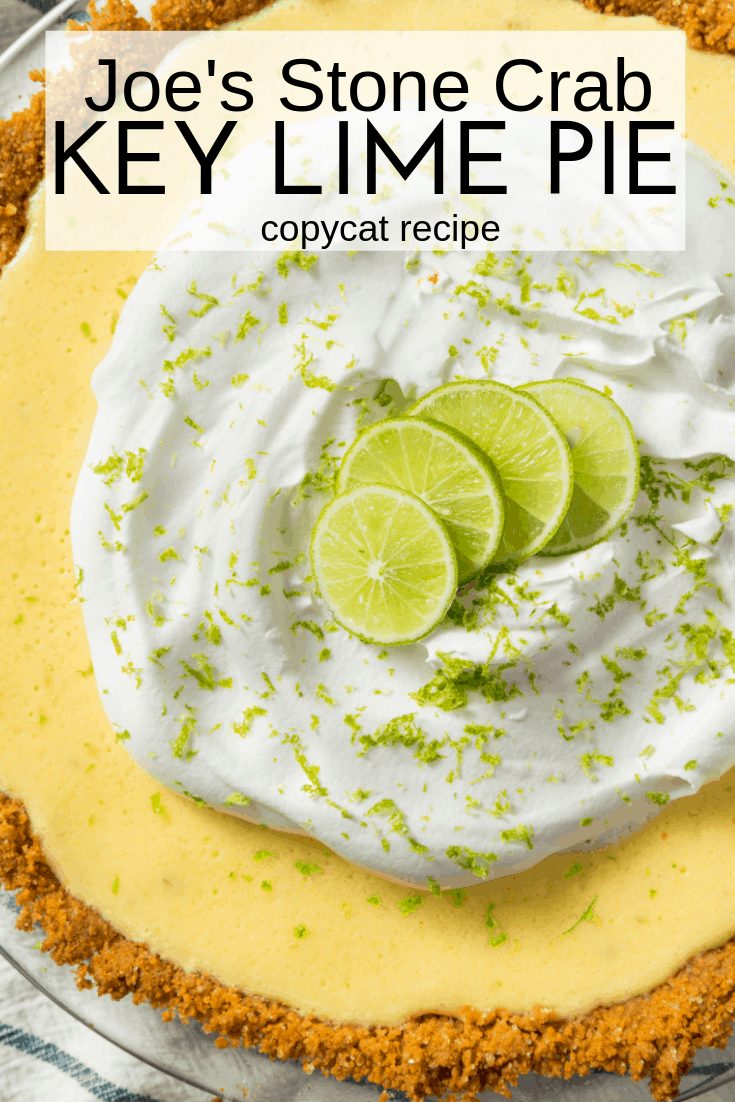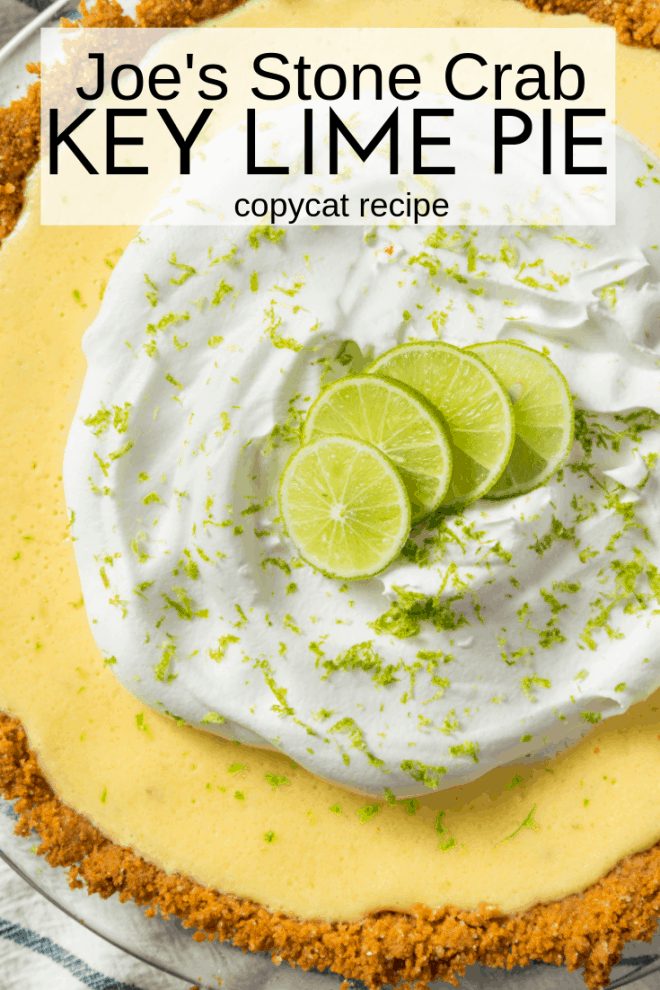 You may also like: