Toasted Coconut Pecan Pie has been compensated by Collective Bias, Inc. and its advertiser. All opinions are mine alone. #SweetenTheSeason #CollectiveBias
Toasted Coconut Pecan Pie is the condensed version of this dessert's name. It's actually Toasted Coconut Pecan Pie with Caramel & White Chocolate Drizzle. Yes, it's a mouthful and no, it wouldn't fit in my title width. And yes, it was a big hit with the family. It's definitely a keeper!
To see more of my recipes with pecans, check out my Best Recipes Featuring Pecans.
This past weekend was a rainy, chilly one and Sunday was the perfect day for homemade beef stew, grilled cheese sandwiches, and Toasted Coconut Pecan Pie.
I whipped up my pie on Saturday with a little (OK – a lot) of help from the Kraft Holiday Bake Center at Walmart. Don't you love how all the Kraft baking goods needed for fall holiday baking are displayed together? I do! It makes it a lot easier to check off my shopping list.
For some people, fall may be all about the pumpkin, but for me, fall is also all about caramel, pecans, chocolate, and coconut. These ingredients were meant to be best friends forever. And my family went wild over my pie.
No-Bake Toasted Coconut Pecan Pie
Here's what you'll need to make my easy, no-bake Toasted Coconut Pecan Pie: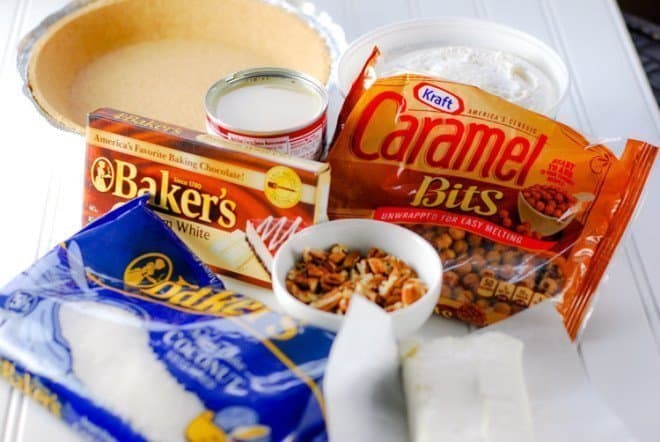 To make the pie, melt 2 tablespoons butter in a skillet. Add the coconut and chopped pecans and toast on medium heat, stirring occasionally. Set aside to cool.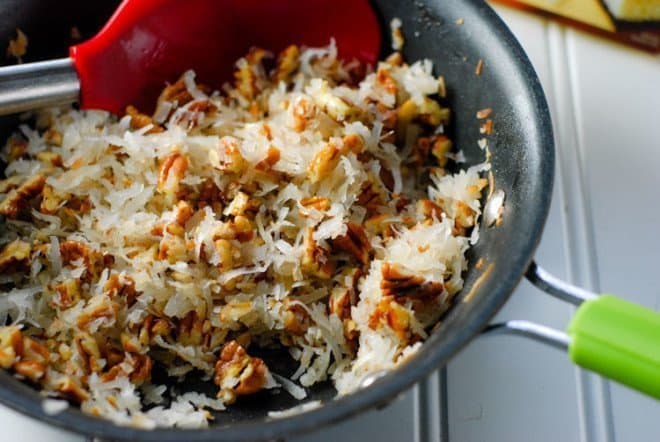 Meanwhile, beat softened cream cheese until smooth and fluffy. Add sweetened condensed milk and mix well.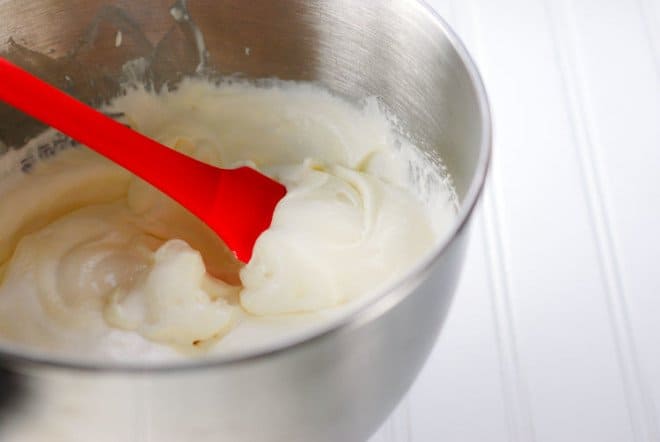 Fold in whipped topping.
Melt Kraft Caramel Bits in the microwave according to package directions. Set aside and melt the Baker's Premium White Chocolate in the microwave (see package directions).
Spoon half of the creamed cheese mixture into the graham cracker crust. Add 1/2 of the toasted pecan/coconut mixture. Drizzle with caramel and white chocolate. Repeat layers.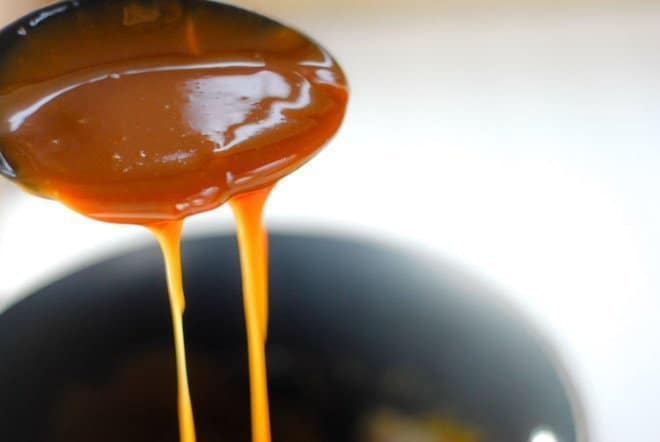 This is a beautiful pie and so easy to make!
Place pie in the freezer for 3-4 hours or until firm.
This Pie is the Perfect Dessert
Once you serve this Toasted Coconut & Pecan Pie to your family and friends, you'll be the most popular person in town. Yeah, it's that good.
When you take a bite, you'll get the creamy, fluffy cream cheese layer coming together with the crunch of the frozen white chocolate and caramel and then the graham cracker crust brings it home. Oh. My. Goodness.
Toasted Coconut Pecan Pie
Yield: 8 servings

Prep Time: 10 minutes

Cook Time: 5 minutes

Additional Time: 3 hours

Total Time: 3 hours 15 minutes

Toasted Coconut Pecan Pie is full of all my favorite flavors. This pie is perfect for fall.
Ingredients
6 oz. Baker's Angel Flake Coconut
1/2 cup chopped pecans
2 Tablespoons butter
1 - 8 oz. Philadelphia Cream Cheese, softened
1 (14 oz.) can sweetened condensed milk
1 (8 oz.) frozen whipped topping, thawed
6 oz. Kraft Caramel Bits, melted
2 oz. Baker's Premium White Chocolate, melted
1 graham cracker crust
Instructions
In a skillet, on medium heat, melt butter. Add chopped pecans and coconut. Toast until coconut is light brown, stirring often. Be careful not to burn. Set aside to cool.
Beat cream cheese until fluffy. Add sweetened condensed milk and mix until well blended. Fold in whipped topping.
Melt caramel bits and white chocolate (separately) according to package directions.
Layer half of creamed cheese mixture into crust. Add half of the coconut and pecan mixture, then half of the white chocolate and half of the caramel.
Repeat layers, ending with caramel and white chocolate.
Freeze until firm (approx. 3-4 hours).
Nutrition Information
Yield 8 Serving Size 1
Amount Per Serving Calories 486Total Fat 32gSaturated Fat 17gTrans Fat 0gUnsaturated Fat 14gCholesterol 39mgSodium 365mgCarbohydrates 47gFiber 3gSugar 32gProtein 5g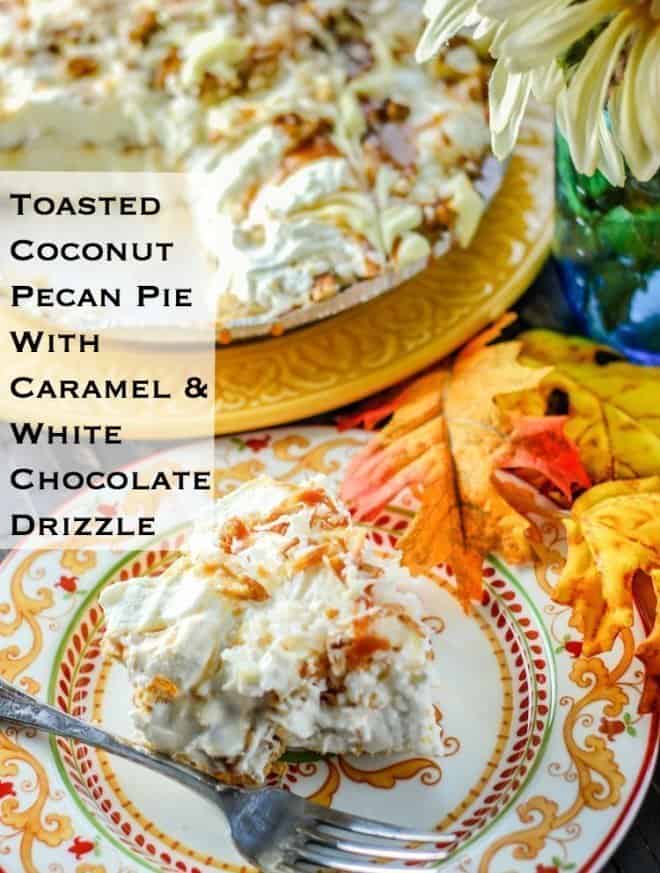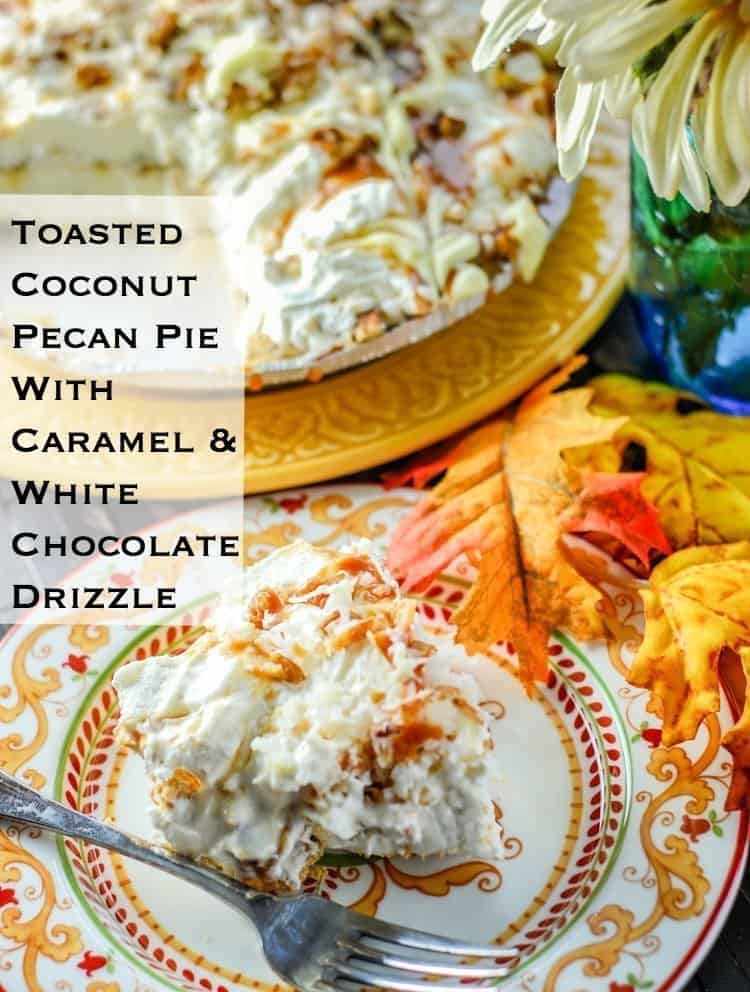 If you have guests coming over for a fall get together or if you just need a quick, easy and delicious dessert for a family dinner, you will not go wrong with this pie. Caramel, coconut, pecans and white chocolate are where it's at for me, for fall, forever. It's what's for dessert!
What are your favorite fall flavors?
You May Also Like

Print Friendly