Mini Cherry Cobblers are easy to make and so delicious. Pitted cherries are lightly sweetened with sugar and tossed with lemon juice. A simple dough tops the cherries and is baked until golden brown.
When I was a little girl, my family lived out "in the country," about three miles from town. Every summer, my sister, Melinda, and my cousins, Dixie and Linda, and I could hardly wait until the wild plums were ripe. Why am I talking about plums when I'm sharing a recipe for mini cherry cobblers? Hold your horses, you'll get it.
Plum trees lined the dirt road between my house and grandma's house. It was a dead-end at grandma's house, so there wasn't any traffic except for family, friends, and the mailman.
Once the plums were ripe, we'd grab a paper bag and fill it with wild, yellow, juicy plums. Oh, yeah, we would pick red plums, too. Once our bags were filled to the brim, we'd head to the front porch, grab the salt shaker, and make ourselves sick eating all those plums. It was a good kind of sick.
Our home burned to the ground the summer I turned 12. We were at a baseball game when it happened. That's when we talked our parents into moving "to town, where all the action was."
As time flew by, we submerged ourselves in our teenage years and our plum picking came to an end. I try to go back and relive those carefree summers every once in a while by purchasing plums from the grocery store. They just aren't the same and I can never quite recapture those summers of my youth.
Now that I'm all grown up (debatable), I prefer cherries to store-bought plums and I always look forward to finding those plump, red jewels in my grocery store once June arrives. That's why I'm sharing mini cherry cobblers instead of mini plum cobblers. Now you know the rest of the story.
Don't forget to remove the pit!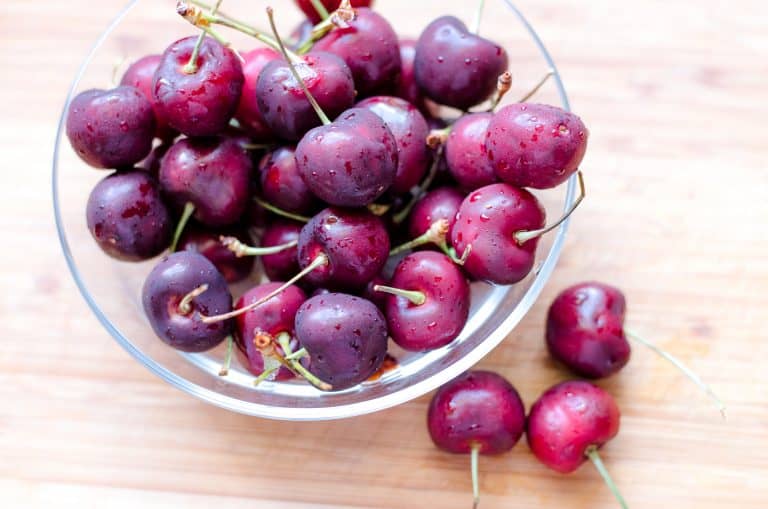 Before making mini cherry cobblers, be sure and remove the pit from every single piece of fruit. You don't want your family and friends to break a tooth.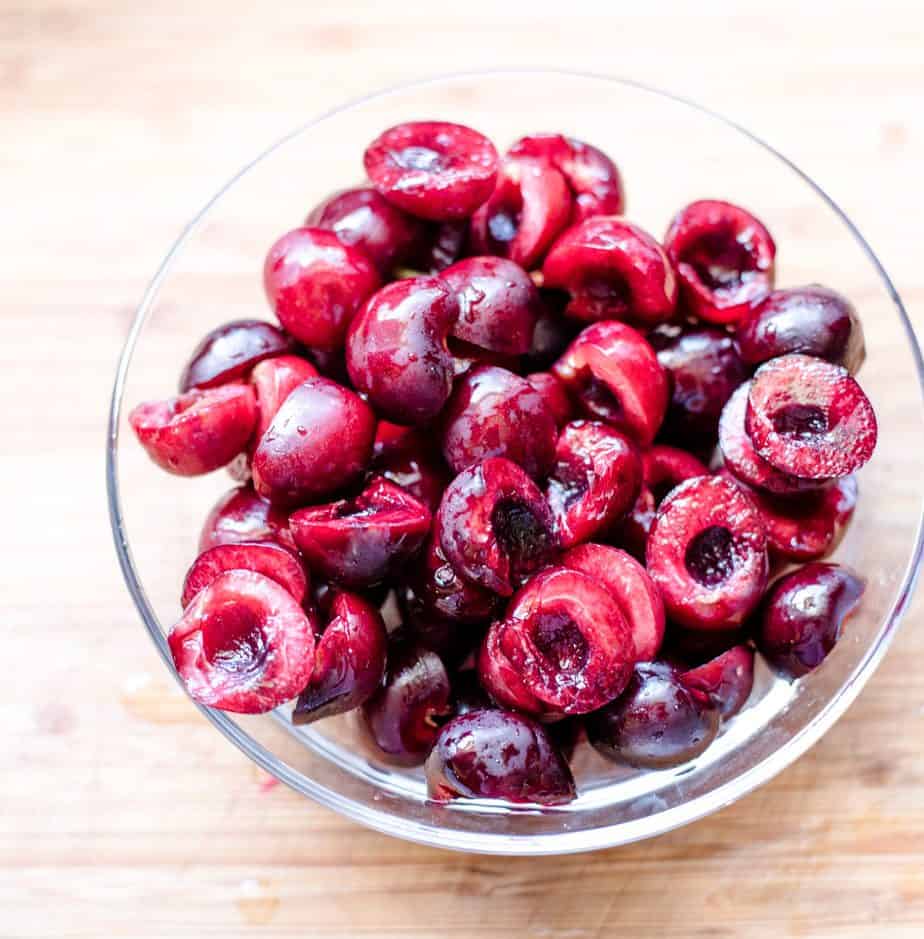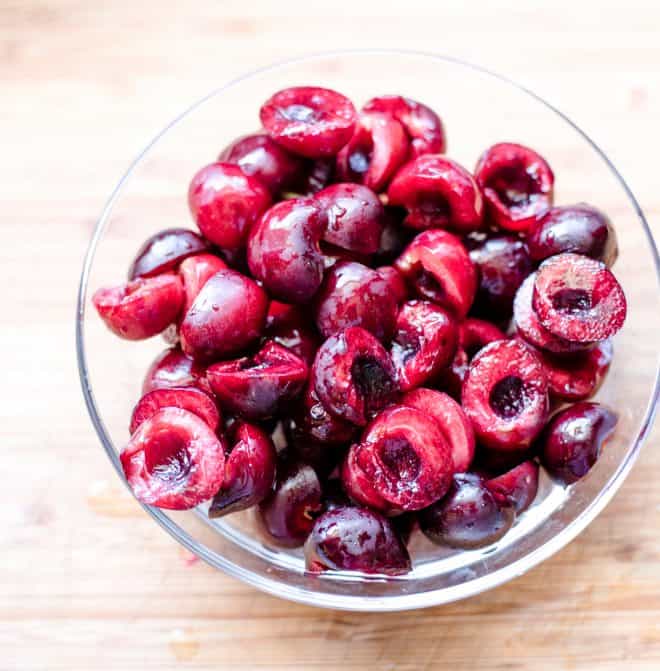 I don't have a cherry pitter, so I score the fruit around the center with a knife, pull it open and remove the pit with my fingers. You can also use a straw or a chopstick to push the pit out the end of the cherry.
If you had rather use a pitter, you can order a cherry pitter below. As an Amazon Associate, I earn from qualifying purchases.
Ingredients At A Glance for Mini Cherry Cobblers
You can find the entire printable recipe towards the end of this post.
Cherries- washed and pitted
Butter, melted
Granulated sugar
Juice of 1/2 lemon
Dough:
All-purpose flour
Granulated sugar
Baking powder
Salt
Milk
Vanilla Ice Cream (for topping the cobblers)
How To Make Mini Cherry Cobblers
Preheat the oven to 375º. While the oven is preheating, halve and pit the cherries. Be sure and catch all the juice. Once pitted, sprinkle the cherries with 2 tablespoons of granulated sugar and the juice from half a lemon. Gently stir to coat the cherries.
Butter four ramekins and divide the cherries equally into the ramekins.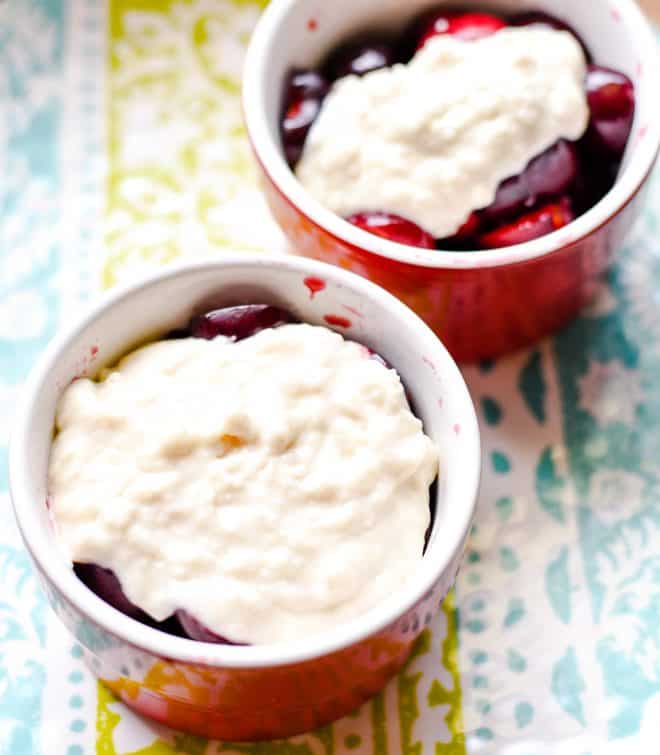 In a medium-sized bowl, stir all the dough ingredients together and spoon evenly over the cherries. Place the ramekins on a baking sheet and bake for 30-35 minutes or until dough is golden brown. Let sit for a few minutes to cool slightly before topping with vanilla ice cream.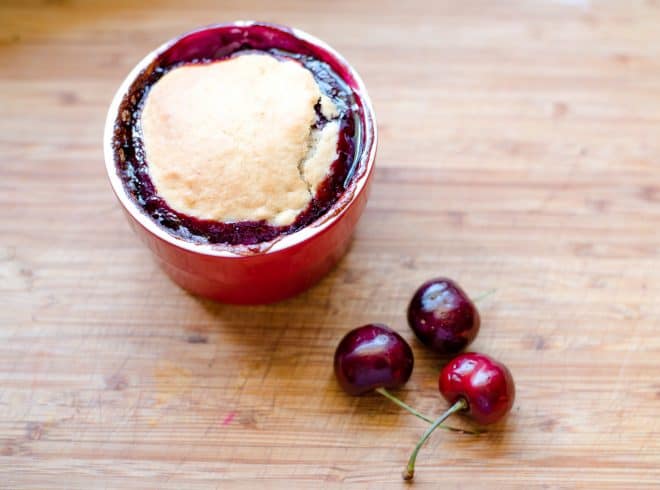 You May Also Like These Recipes Below
Yield: 4 servings
Mini Cherry Cobblers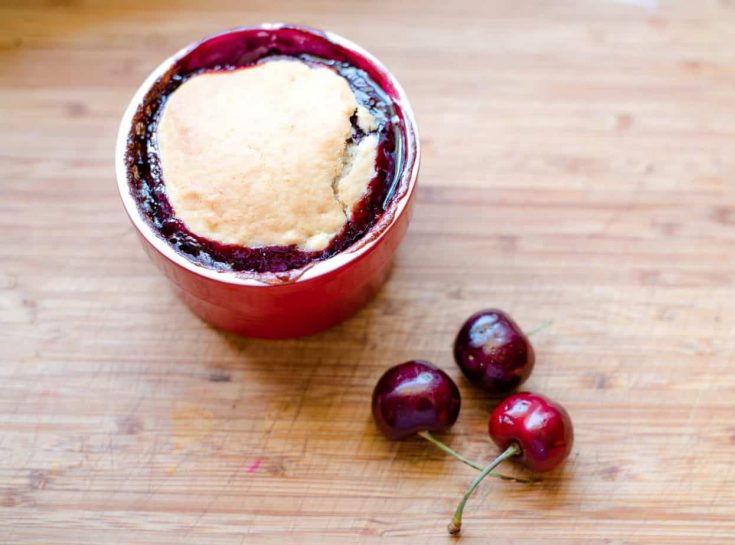 A combination of slightly sweetened cherries, butter, and lemon juice is topped with dough and baked until the crust is golden brown.
Ingredients
3 cups cherries, washed and pitted
1/2 cup butter, melted
3 Tablespoons granulated sugar
Juice of 1/2 lemon
Dough:
1-3/4 cups all-purpose flour
1/2 cup granulated sugar
1 Tablespoon baking powder
Dash of salt
1/2 cup milk
Vanilla Ice Cream or Whipped Cream for topping cobbler
Instructions
Preheat oven to 375º.
While oven is preheating, sprinkle 2 tablespoons sugar and juice from 1/2 lemon over cherries, Gently stir to coat cherries.
Pour melted butter into four ramekins and divide cherries evenly.
Mix the dough ingredients together and place on top of cherries.
Place ramekins on a baking sheet and bake for 30-35 minutes or until golden brown.
Let cool for a few minutes and serve warm with vanilla ice cream.
Helpful Hint: If you don't like cherries, substitute blackberries, peaches, blueberries or plums.