Today I'm sharing my favorite lunch.  It's quick.  It's easy.  It's filling.  It's portable.  I'm trying to see how many sentences I can start with the word it's.  And it's healthy.  It's my super-lunch and I eat it several times a week.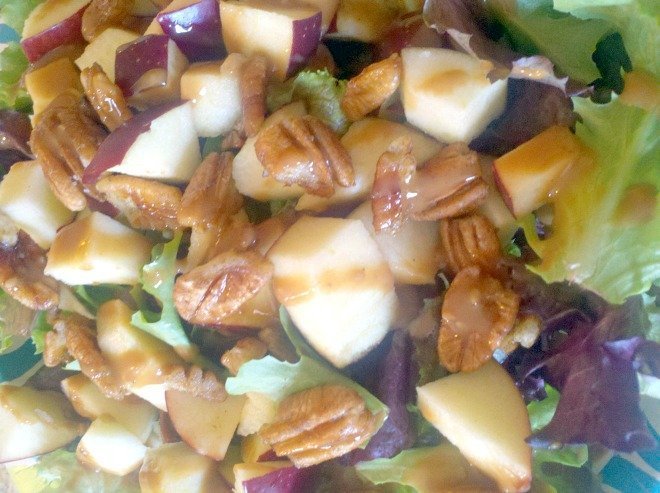 Let's get real.  I eat it just about every day in the spring and summer.  I never, ever tire of the crunchiness, the sweetness, the tartness, the goodness.  Yum!  It's my everyday salad and it's almost embarrassingly easy – almost!

My Everyday Salad
Ingredients
2-3 cups organic spring mix (baby greens & radicchio)
1 red delicious apple, cored and chopped
1 handful (1/4 cup) of voodoo pecans (find my recipe here)
2 T Kraft Asian Toasted Sesame Lite Anything Dressing
1-2 T cranberries (optional, if I have them on hand)
Instructions
Place the spring mix baby greens on a plate. Top with apples, pecans and cranberries. Drizzle the dressing over the top. Of course, you could add other things but I love it just the way it is. To me, it's the perfect lunch.
Sometimes, just to mix things up, I use a Bosc pear instead of an apple and walnuts or almonds instead of the Voodoo Pecans.  The dressing is always the same.  I heart this salad.  And my heart hearts me!  🙂
This salad can also be stuffed into a pita for a portable lunch.
What's your favorite salad?

Print Friendly