Thanks to CFE International for inviting me to participate in a saltfish blogger recipe challenge and for supplying me with delicious Cristobal Salted Pollock. Pollock Rangoon Appetizers is my original creation and all opinions are my own.
I like to think I'm well-versed in all things seafood. When I was invited to participate in a saltfish blogger recipe challenge, I have to admit that I didn't know the first thing about cooking saltfish. Good thing I'm a quick study.
After much thought, I decided to create a unique appetizer recipe using pollock saltfish. Thus, Pollock Rangoon Appetizers with Sweet and Sour Sauce was born.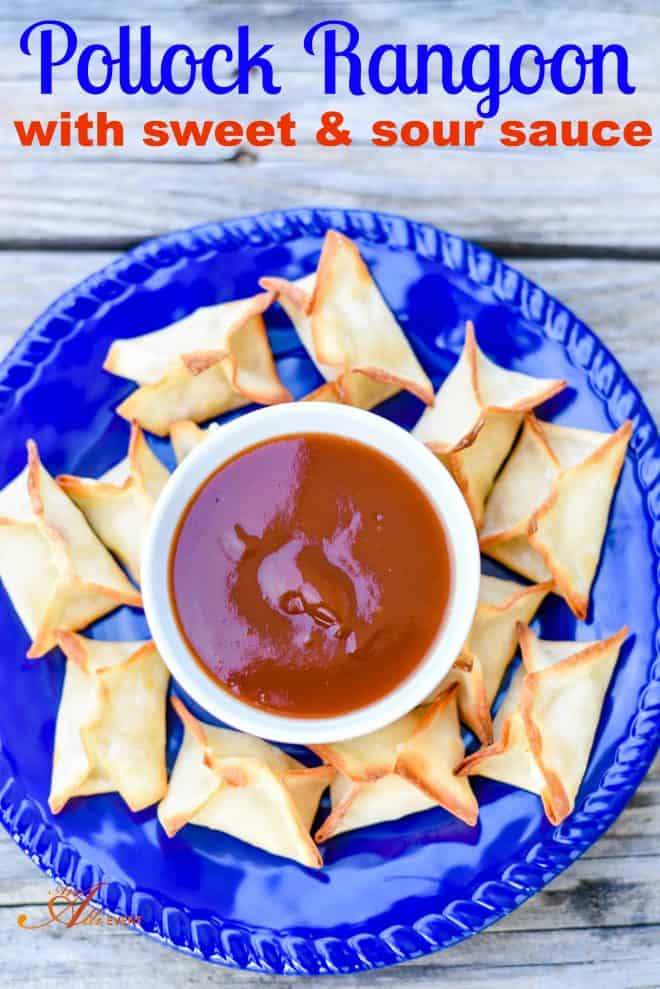 This recipe is totally different from most saltfish recipes. My husband and I visit the Caribbean at least once a year, so I've had my fair share of yummy dishes that include salted pollock or cod.
That's why I decided to go in a completely different direction. I could never compete with the Caribbean way of cooking saltfish.
Yes, I'm well aware that crab is the first choice when making Rangoon. I mean, we've all had Crab Rangoon at our favorite Chinese restaurant.
Crab Rangoon is a favorite with my family and I assumed (correctly) that pollock would make a great substitute for the crab. I hit the bull's eye with this recipe!
What is Saltfish?
Saltfish is a fresh meaty white fish that has been preserved by salt curing and drying until all the moisture is extracted. Because saltfish is preserved by salt curing, it can be stored in the refrigerator indefinitely.
Saltfish needs to be soaked in cold water for up to three days to remove the salt and rehydrate the fish. Just make sure you don't remove all the salt from the fish.
Ingredients For Pollock Rangoon Appetizers (Full Recipe Down Below)
Salted Pollock Fillets (saltfish)
softened cream cheese
powdered sugar
minced garlic
1 green onion
Black pepper
24 wonton wrappers
Peanut oil, for deep frying
Sweet and Sour Sauce:
cornstarch and water
light brown sugar
pineapple juice
rice vinegar
ketchup
soy sauce
How To Make Pollock Rangoon Appetizers
Saltfish is, well, salty.
The first step I take in preparing saltfish is to soak it in cold water for 12 hours. Then I pour off the water, add fresh water and boil the saltfish until tender.
Once the pollock is done, I flake it before making Pollock Rangoon Appetizers.
After the fish is flaked, I mix it with cream cheese, powdered sugar, onion, garlic, and pepper.
Drop a teaspoon of pollock/cream cheese mixture in the middle of the wontons.
Wet the edges of the wontons with water and seal tightly.
I like the cute packets above. However, to save time, you can fold the wontons into a triangle, moisten the edges with water and press the edges to seal.
For Baking: Preheat the oven to 400º F. Spray a baking sheet lightly with cooking spray. Place filled wontons on a baking sheet. Spray again. Bake for 12-15 minutes.
For Frying: Heat peanut oil over medium-high heat until hot (365º F). Fry wontons a few at a time, until golden brown on both sides.
Helpful Hint: Peanut oil is best for pan-frying because it has a high smoke point and a neutral taste. It's low in saturated fat and high in polyunsaturated and monounsaturated fats, making it healthier than frying with shortening or lard. It's my go-to oil whenever I need to pan-fry (or deep-fry) food.
I always make the sweet and sour sauce first so that it's ready once the Pollock Rangoon Appetizers are done.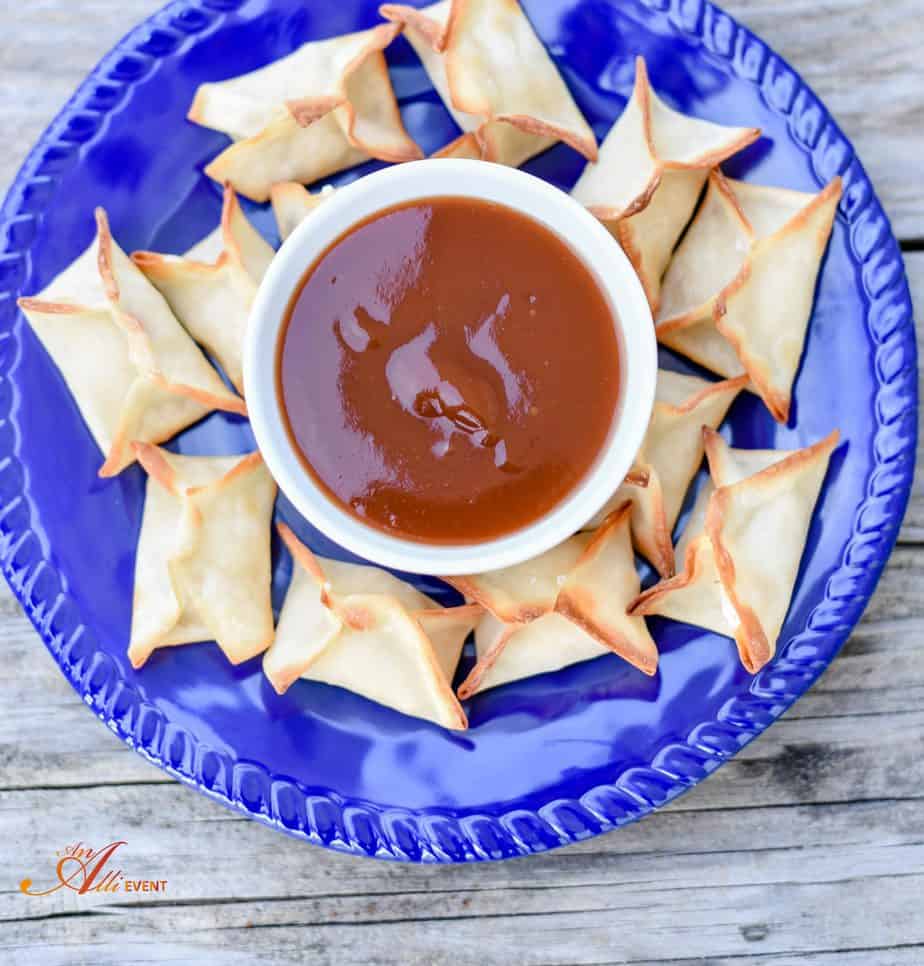 Yield: 12 servings
Pollock Rangoon Appetizers With Sweet and Sour Sauce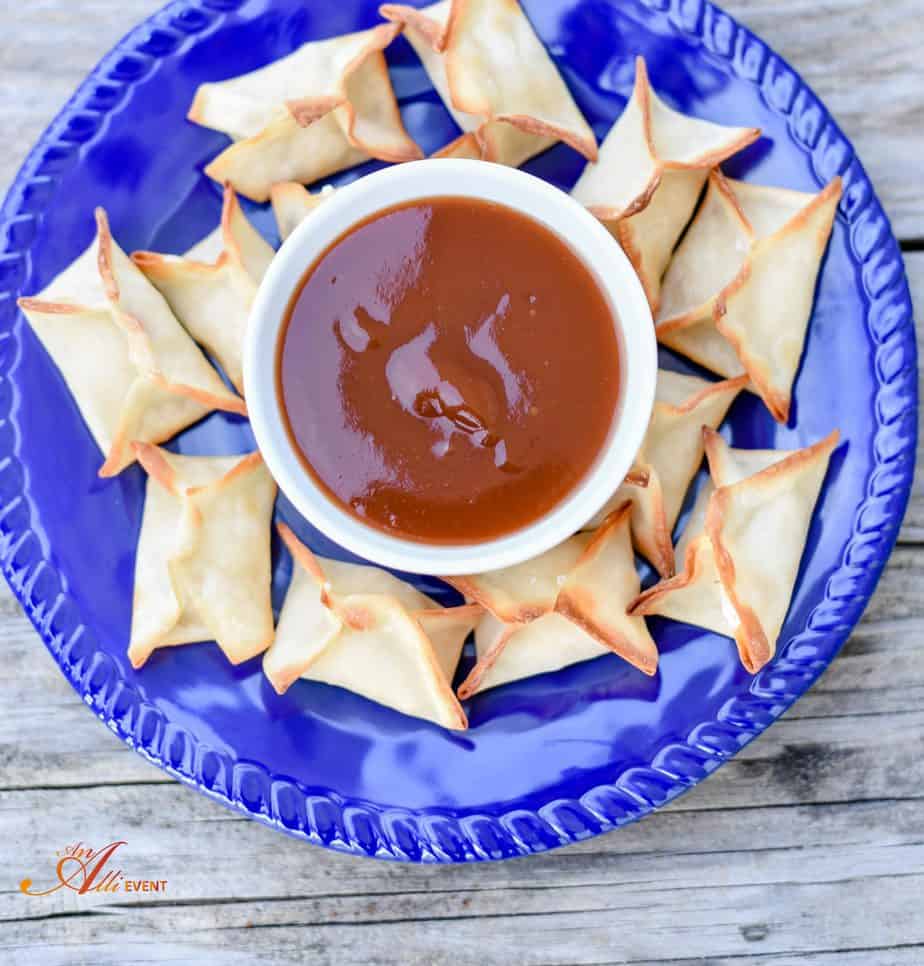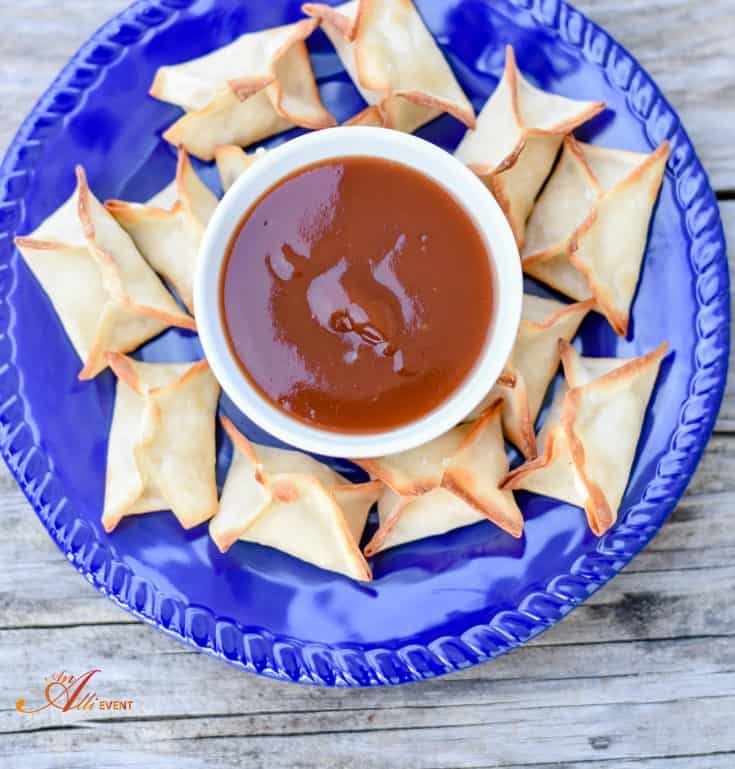 Pollock Rangoon Appetizers are made with saltfish and served with a sweet and sour sauce.
Total Time
12 hours
32 minutes
Ingredients
6 oz. Cristobal Salted Pollock Fillets
8 oz. cream cheese, softened
1 Tablespoon powdered sugar
2 teaspoons minced garlic
1 green onion, thinly sliced
Black pepper, to taste
24 wonton wrappers
Peanut oil, for deep frying
Sweet and Sour Sauce:
1 tablespoon each of cornstarch and water
1/4 cup light brown sugar
2/3 cups pineapple juice
1/3 cup rice vinegar
2 Tablespoons ketchup
1 Tablespoon soy sauce
Instructions
Soak the salted pollock fillets in cold water for 12 hours. Drain and add fresh water to cover. Bring to a boil and boil for twenty minutes or until tender. Cool and flake the fish.
Mix the cream cheese, powdered sugar, onion, garlic, black pepper and flaked pollock. Stir well.
Place one teaspoon pollock mixture in the center of each wonton. Dab water on the outer edges and fold the ends of the wrappers together. Be sure and seal completely.
To Fry: Heat 2" oil in a heavy skillet on medium high heat. Fry the Pollock Rangoon until golden brown, about 1-2 minutes per side.
To Bake: Preheat oven to 400º F. Spray a baking pan lightly with cooking spray. Add filled wontons in a single layer. Spray the wontons lightly with cooking spray. Bake for 10-12 minutes or until golden brown.
Sweet and Sour Sauce
Whisk together water and cornstarch in a small bowl. Set aside.
In a saucepan, combine brown sugar, pineapple juice, vinegar, ketchup and soy sauce. Bring to a boil on medium heat. Stir in the cornstarch/water mixture and heat until thickened.
Nutrition Information
Yield
12
Serving Size
1
Amount Per Serving
Calories

164
Total Fat

8g
Saturated Fat

4g
Trans Fat

0g
Unsaturated Fat

3g
Cholesterol

27mg
Sodium

258mg
Carbohydrates

18g
Fiber

0g
Sugar

7g
Protein

5g
My Pollock Rangoon Appetizers are perfect to serve as appetizers when you're entertaining guests or for snacks when it's just the family. I make them when I'm having a date night in.
Helpful Hint: If you have any pollock mixture leftover, refrigerate it and eat it with crackers the next day.
Have you ever tried saltfish? You can find Cristobal Salted Pollock Fillets at your local Publix. Be sure and follow the recipe challenge on Facebook, Twitter, Pinterest, and Instagram.
You Will Also Love These Seafood Recipes!