Trunk or Treat is right around the corner and I have all-new ideas for Trunk or Treat 2022!
Every year, on October 31, our church has a Trunk or Treat party complete with free food (grilled hot dogs and hamburgers). It's an alternative to trick or treat and the adults have just as much fun as the kids.
I love seeing all of the creative trunks each year. I hope you get some great ideas as you browse through all the different and unique trunks.
At the end of this post, make sure you check out even more fun Trunk or Treat ideas!
What Is Trunk or Treat?
Participants park their cars in a central location (like a church parking lot) and decorate their trunks. Kids walk by each car to get treats. It's a safe environment for the kids and adults to have loads of fun.
We don't just decorate our trunks at my church. Nope. We get in on the fun and wear costumes that go along with our theme. Have I mentioned how much fun we have?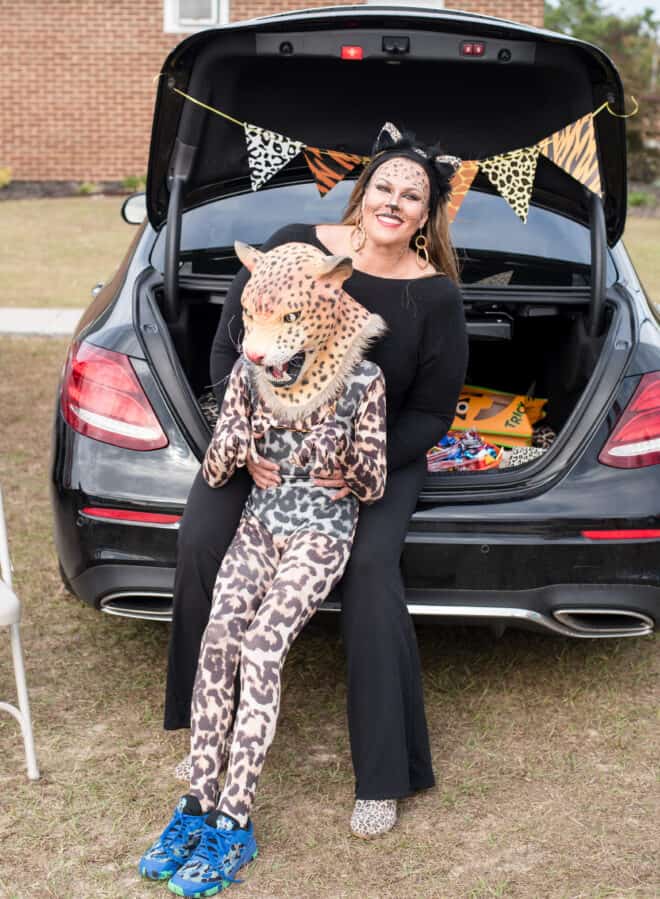 My husband is such a good sport about Trunk or Treat! A couple of years ago, we went as Minnie and Mickie Mouse and decorated our trunk with everything Mickey-related. (Hint: A plastic shower curtain hung with shower clips on an expandable rod makes the perfect backdrop for your theme!)
As soon as a cute little preschooler in her own Minnie costume saw me, she let out a shriek and said, "Look, mom. It's the real Minnie!" It made my night!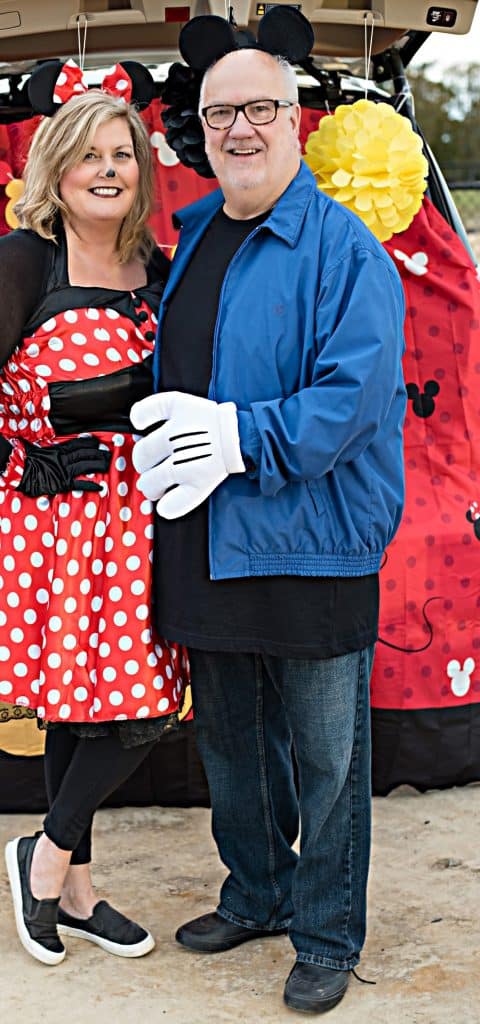 Another one of my favorites was when my husband and I were Batman and Batgirl. (Here we are down below!) I didn't like the cape that came with the costume so I bought a more realistic cape. I mean if you're going to be batgirl, you have to look like the real deal. Wink. 🙂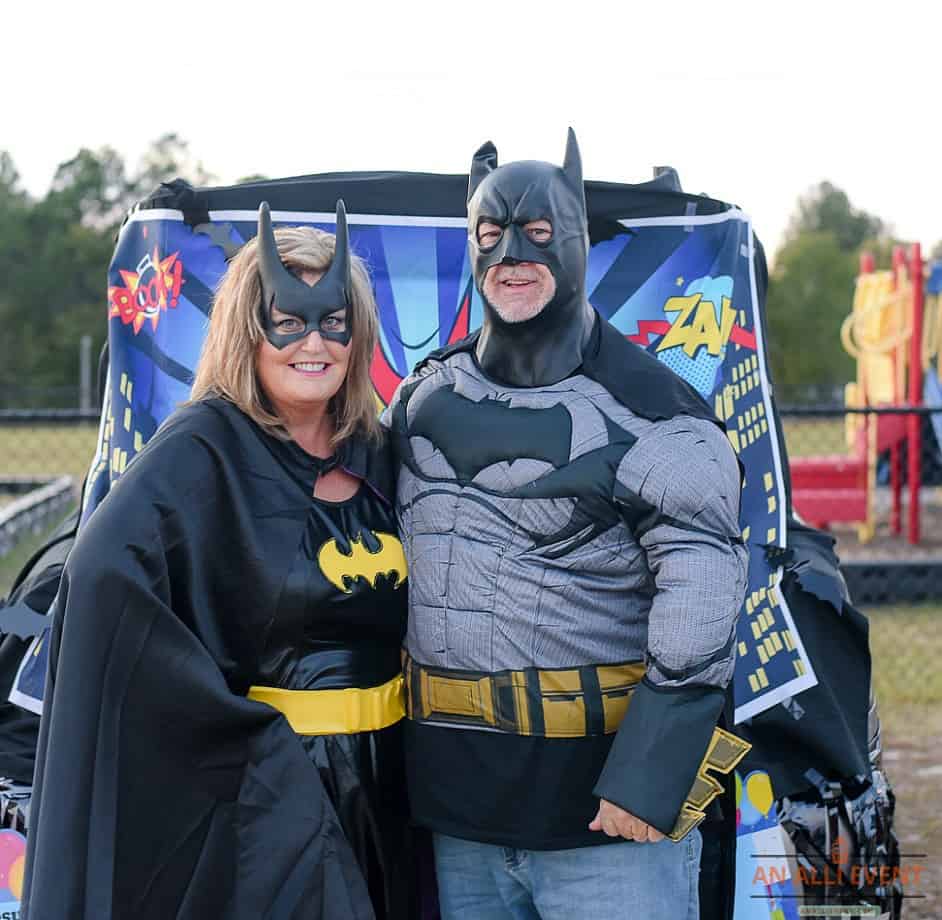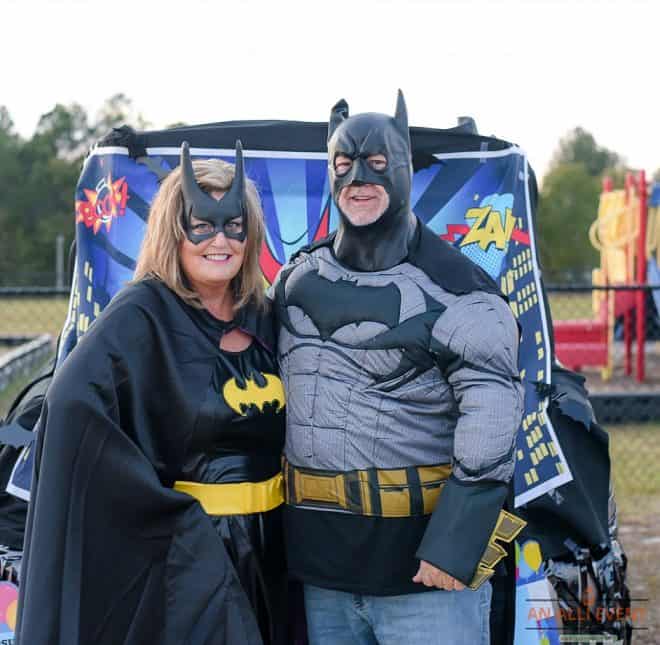 I usually buy most of my trunk decor/costumes from Amazon, Halloween Costumes, or Party City. If you're crafty, you can make your own costume. I'm not that crafty.
Trunk or Treat Ideas 2022
Without further delay, let's get to all the great trunks for 2022. Remember, at the end of the post, click on the links to find even more fun Trunk or Treat Ideas. You won't leave here without a lot of great ideas! I promise!
Let's get this party started!
Top Gun Trunk or Treat
Top Gun ruled at the box office this year, so naturally, this one is a huge hit. This family always has creative and beautiful trunks.
The costumes for Top Gun are awesome!
Fortnite Trunk or Treat
This family knocked it out of the park with this popular video game theme. Fortnite is a favorite game and this trunk did not disappoint. You can tell that a lot of work went into this one, too!
PacMan – Trunk or Treat Ideas 2022
PacMan is a classic video game and this trunk (and the costumes!) is on point! I love when the entire family gets involved!
Flintstones – Meet The Flintstones!
This is another favorite trunk. This one brought back some great memories because I grew up watching the Flintstones! Wilma, Fred, and all the gang are here for this adorable trunk!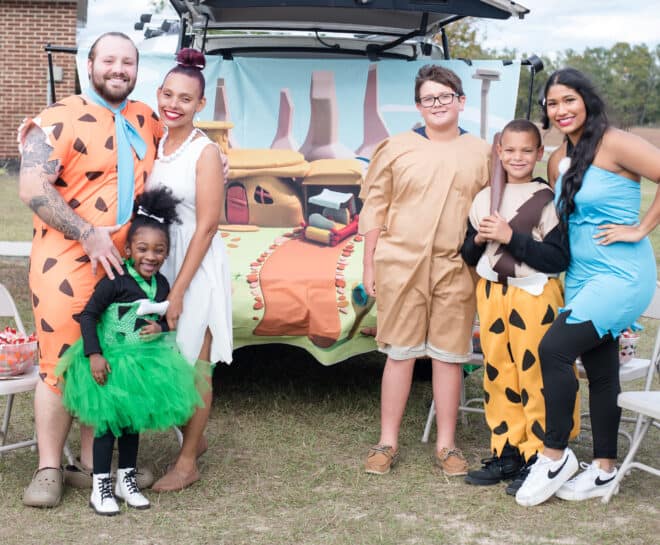 Where's Waldo Trunk
Where's Waldo is another classic and this trunk is amazing!
Everything is red and white! Inside the trunk is a large poster so that the kids can stop by and find Waldo. Even the containers full of candy are red and white striped. I love this colorful, fun trunk.
Safari Trunk or Treat
Want to go on a safari? Come along on the wild ride!
This Safari theme is Wild About Jesus and includes an adorable, I mean ferocious, lion!
PJ Masks – Trunk or Treat Ideas 2022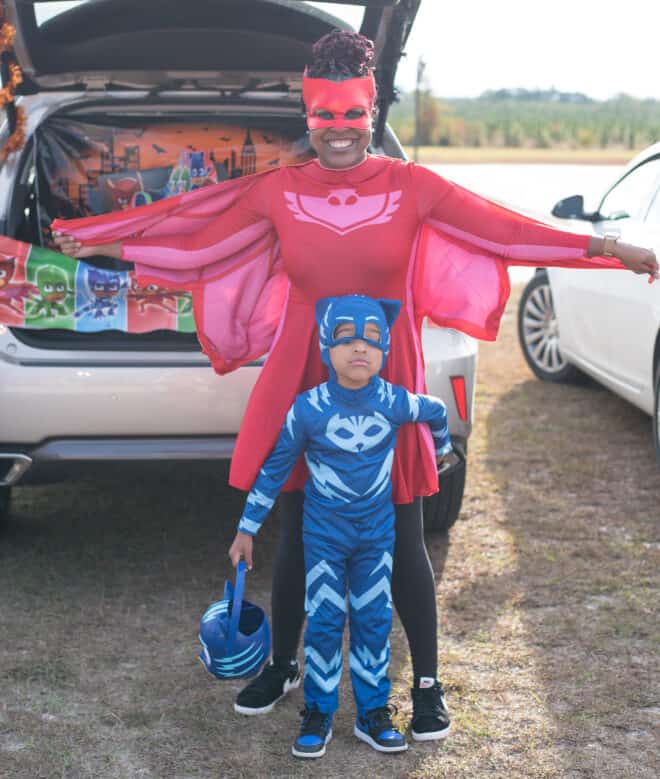 If your child is into PJ Masks, this is the perfect trunk. It's instantly recognizable and all the kids will love stopping by.
M&M's Trunk
Is this not the most adorable M&M's trunk? It's making me hungry! You can see how easy it is to attach the backdrop to the trunk with colorful clips that match the M&M's.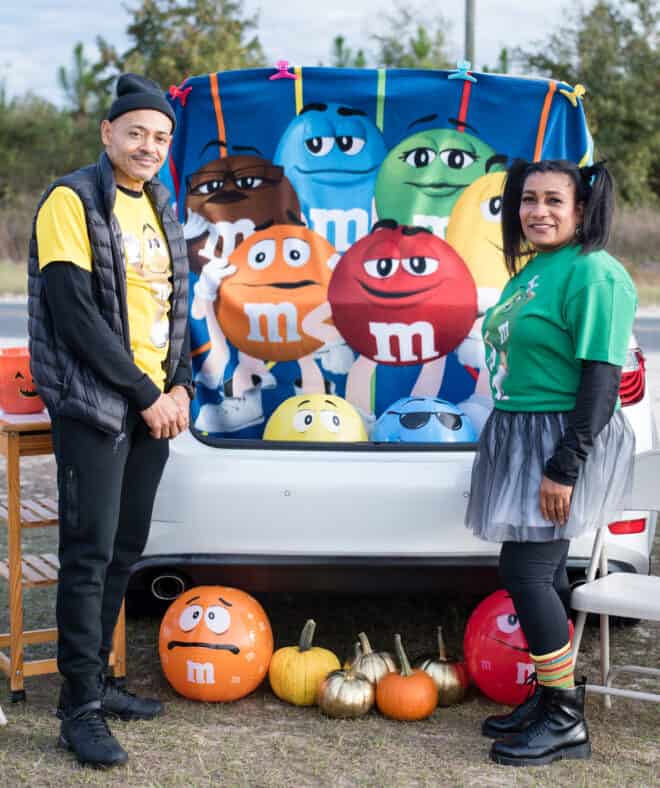 Santa and Mrs. Claus!
The kids will be so excited to see Santa and Mrs. Claus making an appearance during Trunk or Treat. They even have Christmas lights as part of this Christmas-themed trunk.
You can get my Dear Santa template FREE PRINTABLE here >>>> Free Letter To Santa Template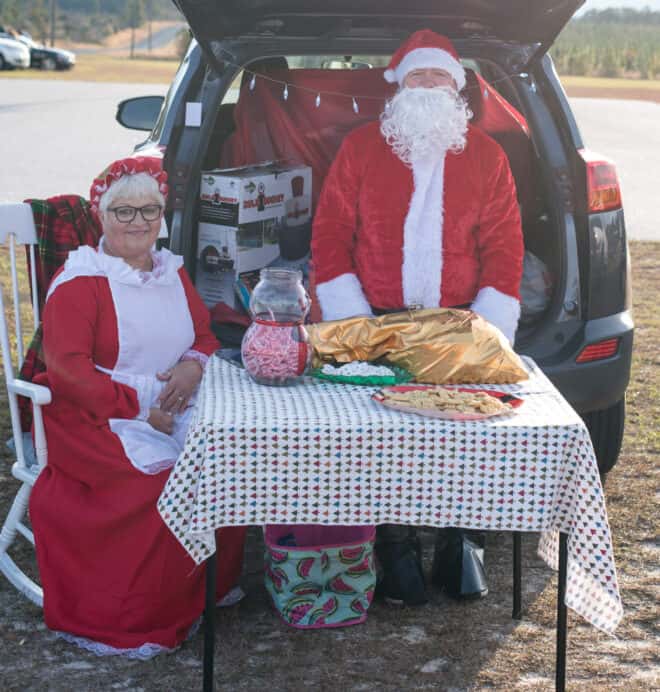 Disco Nights Trunk or Treat
Now this one takes me back . . . way, way back. She even has the hairstyle to match and disco background music.
Fruit of The Spirit Trunk or Treat
This is another favorite Trunk or Treat theme. You can tell this girl is a teacher because it's perfection!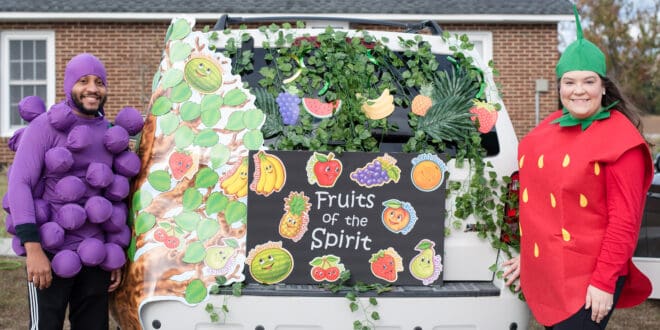 Fall at The Farm Trunk or Treat Idea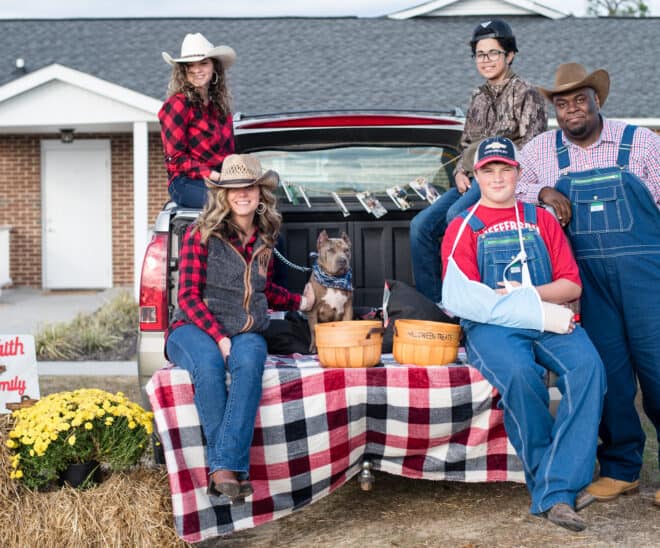 Even the puppies are enjoying this fall-themed trunk or treat.
Dexter's Laboratory Trunk or Treat Ideas 2022
All of the older kids will instantly recognize this classic! I wonder what goodies they are cooking up in the lab!
Baby Shark Trunk
All of the younger kids (and even some older kids) will be humming the tune to Baby Shark when they stop by this adorable trunk.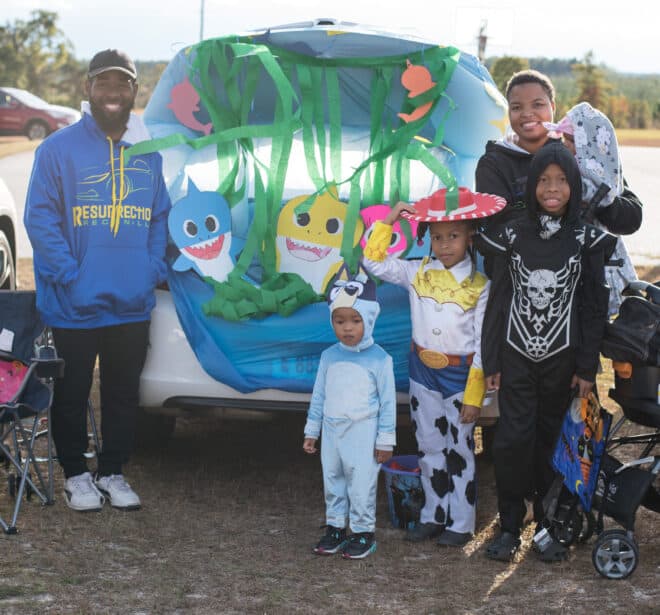 OK Corral Trunk or Treat Idea
You can tell this guy is a carpenter by trade because this is pure perfection. If you have the skills, I say go for it! I just wish I had the skills.
If you can't build things like this, go to Amazon and look at all their backdrops. Sometimes that's where I start. I'll just type in hippie costumes or hippy backdrop (My husband and I went as hippies last year and I didn't get a single photo because I was so busy taking photos of all the other great trunks).
Don't you just love all of these great trunks and costumes?
You Can Find Even More Fun Trunk or Treat Ideas Below!! Just click the links!
We are so appreciative of the family that grills the hotdogs and hamburgers. Every person that attends this outreach gets a free meal!