Chilled Strawberry Soup is one of my favorite soups, especially in the spring and summer and it's so, so easy to make!  If you've never had it, you must try it.  It's sort of like a strawberry milkshake in a bowl. Sometimes, I just want to act the fool and turn that bowl up and drink it.
I whipped up my chilled strawberry soup for the first course of a six-course Springtime in Paris luncheon I prepared for our Girlfriends Women's Group at our church (about 65-75 women in attendance).  We also had a wine and cheese tasting course (sparkling grape juice) and I made homemade sorbet as a palate cleansing course.
Everyone was encouraged to wear fancy hats.  One lady actually wore a hat from a boutique de modiste (hat shop) in  Paris!  We had Parisian music softly playing in the background, including the famous recording of Ella Fitzgerald singing "I Love Paris."
My color theme was black and white with touches of hot pink and lime green, and I made sure to have little touches of Paris everywhere, but my main decor was a re-creation of an outdoor Parisian cafe, complete with a small round table, chairs, fresh flowers and sparking chilled juice paired with wine glasses.  I noticed that many pics were snapped in front of that Paris cafe!
A lady's bicycle with a basket overflowing with spring flowers and baguettes, and a black standard poodle on a hot pink leash, casually tethered to the bicycle, was parked nearby.  Well, the poodle was fake, but it looked real!  I searched high and low to find one.  I tried to beg, borrow or steal a real one.  I really did.   I like authentic. 🙂
Our youth group served as waiters and waitresses, all attired in black trousers and white shirts.
Springtime in Paris Menu
Chilled Strawberry Soup
Spring Salad Mix with Assorted Dressings (usually comes after the main course in France)
Assorted Cheeses with Sparkling Grape Juice
Water & Lemonade
Chilled Strawberry Soup
Ingredients
2 cups hulled and sliced fresh or (thawed) frozen strawberries
1 cup orange juice
1 cup vanilla yogurt
½ teaspoon vanilla extract
Whipped topping, optional
Instructions
In a blender, combine all the ingredients except the whipped topping and process until smooth. Ladle the soup into bowls and top with a dollop of whipped topping.
A Springtime in Paris Luncheon is so much fun!   You will almost feel like you are in Paris.  Almost.
Helpful Hints
When making chicken salad for a large crowd, I use rotisserie chickens from the grocery store.  I just peel off the skin and debone the chicken and shred it.
Also, did you know that the Walmart bakery will bake fresh croissants?  Just make sure to place your order about a week before your event.  I like to use the mini croissants for a luncheon.
An easy and inexpensive wall grouping can be achieved by making copies of a large black fleur-de-lis and placing the copies in 8×10 black picture frames.  I made nine of these and hung them in three rows of three.  It looked very impressive with my black and white theme.
Have you ever been to Paris?  I've only been in my mind, but one day . . . . .
Au revoir!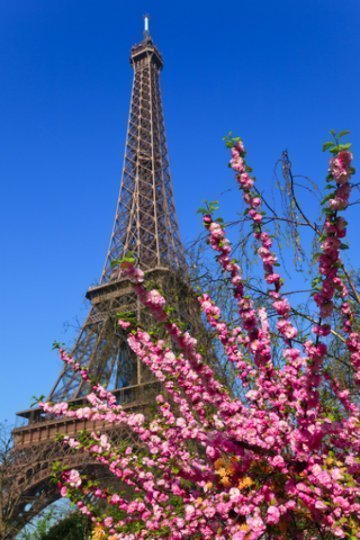 Print Friendly