Do you have a list of must-watch Christmas movies? I do! Today I'm sharing my all-time favorite family-friendly Christmas movies.
The holiday season wouldn't be complete without watching my top 7 movies. I've been watching some of these movies since I was a little girl and now I watch them with my grandkids.
Family-Friendly Christmas Movie Night Tips
Use the tips below to have an epic family-friendly Christmas movie night!
Schedule Christmas movie night!
Choose the family-friendly Christmas movie (decisions, decisions).
Dim the regular lights and turn on the Christmas tree lights.
Have lots of comfy pillows (pillow fight, anyone?)
Don't forget the blankets/throws for snuggling.
Make lots of yummy snacks – Don't forget the popcorn and Mocha Punch – it's a family favorite!
Wear Christmas PJs or have an ugly Christmas sweater contest. (These matching family PJs are perfect for Christmas movie night!)
I've included links to the movies down below if you'd like to purchase them. As an Amazon Associate, I earn from qualifying purchases.
Welcome to Our Annual Festive Christmas Event!
Welcome back to year 6 of our Festive Christmas Event where we team up with a bunch of talented blogging friends to bring creative ways to celebrate your holiday season.
We will be baking some cookie recipes for you, sharing some party games, making some handmade gifts, doing some ornament crafting, and sharing our Christmas movies for family fun.
There will be breakfast recipes and, as always, our decorated Christmas Trees which is always a fun tour of homes.
New this year is Gift Guides. We have been busy little Elves doing tons of research to create fabulous Gift Guides to help you with your holiday shopping.
You will find new ideas every Monday and Wednesday between Oct. 19th through Nov. 18th. Scroll all the way down to find all the ideas linked at the end.
Family-Friendly Christmas Movies Are My Favorite
I love spending time with my family and watching Christmas movies on a cold, winter night is so much fun. We like to watch movies that the entire family can enjoy and I think you will love these family-friendly Christmas movies.
We took the grandkids to ride The Polar Express in Bryson City, NC a few years ago and it really made the movie come to life. You'll notice that it's one of my top 7 movies.
No, I didn't wear my PJs. The grandkids did, but I also saw lots of adults wearing pajamas. It was so much fun.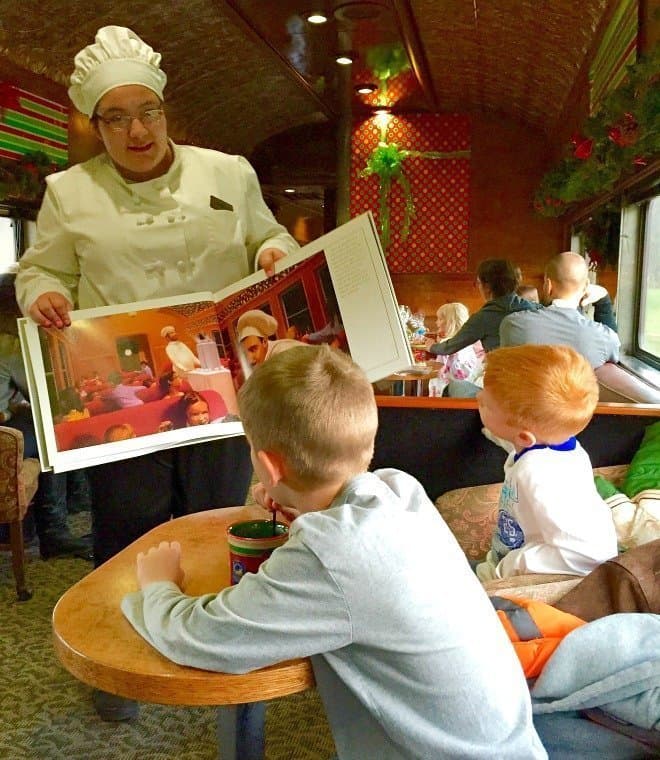 If You Love Movies, You'll Love These Snack & Movie Night Ideas!
All of the movies below are appropriate for the entire family, including the kids. Let's get to it!
Top 7 Family-Friendly Christmas Movies
(These movies are not in any particular order – I love them all!)
Top 7 Family-Friendly Christmas Movies
These are my top 7 Family-Friendly Christmas Movies.
Check Out The Awesome Christmas Movie Posts Below!
Rudolph the Red Nose Reindeer Movie Memory Game My Pinterventures
Easy Family Christmas Movie Night Snack Bar Intelligent Domestications
Elf Family Movie Night As For Me and My Homestead
Golden Era Christmas Movie Must-Watch List The Aspiring Home
Christmas Movie Night Keto Charcuterie Board Little Vintage Cottage
Grinch Family Movie Night Coffee With Us 3
The Cutest Grinch Cupcakes From House To Home
My Top 5 Favorite Christmas Movies Blogghetti
Top 7 Family-Friendly Christmas Movies An Alli Event
An Evening With Ebenezer Scrooge Holiday Movie Night Interior Frugalista
Santa Claus is Coming to Town Movie Night Simply Inspired Meals
Reusable Nightmare Before Christmas Gift Tags Craft Rocker
Christmas Movie Gift Ideas Polka Dot Poplars
Elf Leg Earrings Eye Love Knots
Romantic Christmas Movie Date Night Christmas Tree Lane
White Chocolate Christmas Puppy Chow Domestically Creative
Diverse Christmas Movies to Watch Purple Hues and Me
Unconventional Christmas Movies to Watch This Holiday Season Mom Home Guide
Hallmark Christmas Movie Bingo Game Creative Cynchronicity
Grinch Candy Buttons Tikkido
Hallmark Movie Christmas Pear Drop Cookies Domestic Deadline
Christmas Movie Marathon A Tradition To Love My Humble Home and Garden
How to Plan an Epic Christmas Movie Night Farm Girl Reformed
How to Make Buddy the Elf Snowball Dough Our Sutton Place