Jalapeno Hush Puppies are the perfect side dish when you're serving fish. These hush puppies are full of flavor, tender on the inside, and crunchy on the outside. When you remove the seeds before chopping the jalapenos, they are not spicy at all.
Helpful Hint: If you want more spice, leave in some of the seeds when chopping the Jalapenos.
Whenever my family has a fish fry, hush puppies, french fries, and coleslaw are a must. We all love my brother's hush puppies. Sometimes I like to spice things up a bit with Jalapeno Hush Puppies.
In case you don't know what a hush puppy is, it's a small, round fried cornmeal ball. It has a nice crunch on the outside and is tender on the inside.
To make Jalapeno Hush Puppies, you'll need the following ingredients. (You can find the complete, printable recipe card towards the end of the post.)
Self-rising Cornmeal Mix (not regular cornmeal)
Large Eggs
Buttermilk
Sweet Onion (I use Vidalia when in season) – We love onions in our hush puppies, but if you don't, you can certainly leave out the onions.
Jalapeño Peppers, seeded and chopped (leave a few seeds in if you like spicy)
Oil for deep frying (I use peanut oil)
What is Self-Rising Cornmeal Mix?
There is a big difference between regular cornmeal and cornmeal mix. Self-rising cornmeal mix already has flour, baking powder, and salt, so there's no need to add those ingredients. I always use self-rising cornmeal mix to make cornbread and hush puppies.
How To Make Your Own Self-Rising Cornmeal Mix
If you don't have any self-rising cornmeal mix on hand for this recipe, you can make your own. You'll need:
2 cups finely ground cornmeal
8 Tablespoons all-purpose flour
2-1/2 Tablespoons baking powder
3/4 teaspoon regular table salt
Make sure you use fresh baking powder. Baking powder generally has a shelf life of about six months to a year. You can test baking powder to see if it has gone bad by adding a teaspoon to 1/2 cup of hot water. If it bubbles, you're good to go.
Sugar or No-Sugar in Hush Puppies?
I know this is a delicate subject among southerners, but I'm in the no-sugar in hush puppies and no-sugar in cornbread camp. That's the way mama did it and we don't like sweet cornbread or hushpuppies. However, if you're planted firmly in the sugar camp, feel free to add 2 Tablespoons of sugar. We don't mind.
Tips When Making Jalapeno Hush Puppies (Full Printable Recipe Down Below)
I recommend using peanut oil because of the high smoke point, but you can also use vegetable, corn oil, soybean oil, or avocado oil.
In a heavy-bottomed pan, heat the oil to 350º F. I use a Dutch oven but you can also use a deep fryer or a cast iron skillet.
I wear gloves when seeding and chopping the jalapeno peppers. If you like extra spicy, don't remove all of the seeds.
Use a deep-fry thermometer to make sure the oil is hot enough and to ensure the oil doesn't get too hot.
Add the dry ingredients to a medium bowl and the wet ingredients to a separate bowl. Whisk the wet ingredients into the dry ingredients just until blended.
Use a small cookie scoop (or tablespoon) to drop the batter into the oil. If you make the hush puppies too big, they will brown before the middle is done. Smaller is better.
Fry small batches at a time. Don't overcrowd.
As the hush puppies turn golden brown, turn the hush puppies. It only takes about 3-4 minutes for each batch. You want the hush puppies to be golden brown and cooked through.
Remove with a slotted spoon and let drain on a paper towel-lined platter.
Repeat with the remaining batter, making sure the oil comes back up to 350º F before frying the next batch.
What To Serve With Hush Puppies
If you're having a fish fry, make sure you serve jalapeno hush puppies! Hush Puppies pair perfectly with any type of seafood.
Most BBQ restaurants in the south serve hush puppies as an appetizer.
I like my hush puppies just the way they are. But you can dip them in hot sauce or honey butter.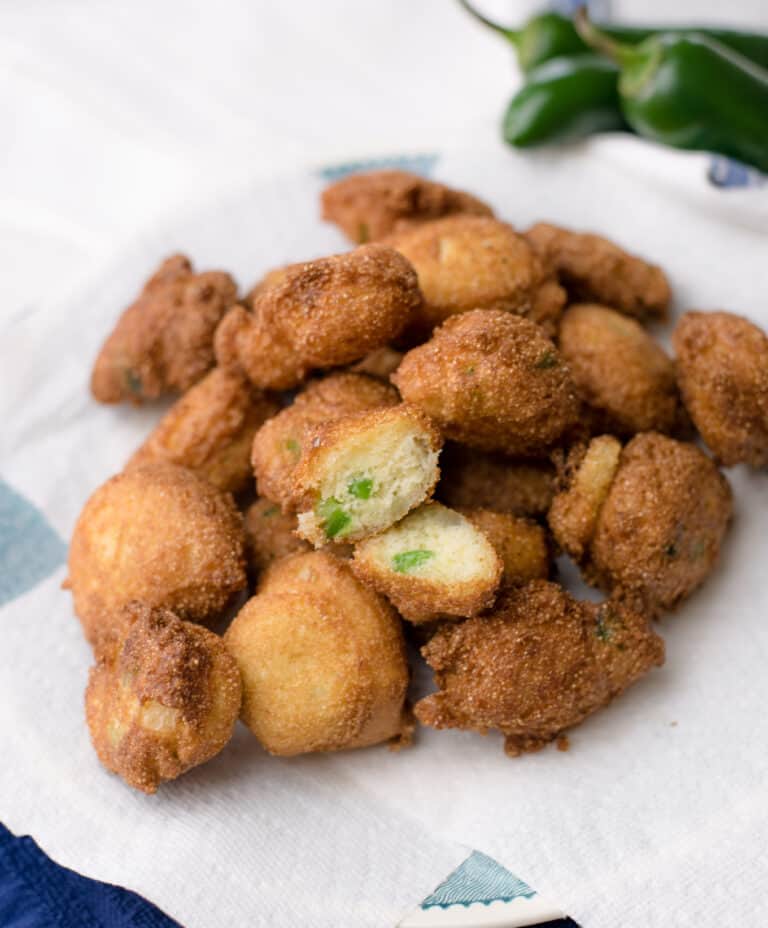 How To Store Leftover Hush Puppies
Hush Puppies are best when eaten as soon as they are cooked. However, you can store them in the fridge in an airtight container lined with paper towels for 3-5 days.
You can also freeze hush puppies for up to three months. Reheat in the air fryer at 350º F for 4-5 minutes or until heated through.
You May Also Like These Recipes
Yield: Approximately 40 Hush Puppies
Jalapeño Hush Puppies With Onions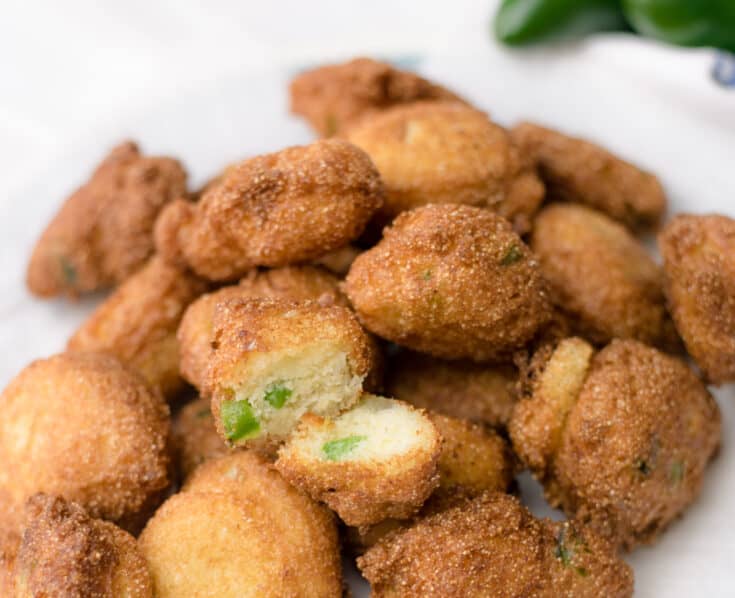 Jalapeno Hush Puppies have just a touch of spice and are tender on the inside and crunchy on the outside.
Ingredients
2-1/2 cups self-rising cornmeal mix
2 large eggs
1-1/3 cups buttermilk
1 cup chopped sweet onion
2 medium-sized Jalapeno peppers, seeded and chopped
Instructions
In a large dutch oven or heavy pot, add two inches of oil. Heat until a deep-fry thermometer registers 350ºF.
Meanwhile, in a large bowl, add the cornmeal mix. In a separate medium-sized bowl, whisk the eggs. Whisk in the buttermilk. Stir in the jalapenos and onions. Stir the wet ingredients into the dry ingredients just until blended.
Using a small cookie scoop (about 1/2 oz.) or tablespoon, scoop the batter into the hot oil. Fry, turning occasionally, until deep golden brown on all sides, about 3-4 minutes per batch. (Fry about 8 hush puppies at a time, being careful not to overcrowd the pot. Let the oil return to 350º between batches)
Drain on a paper towel-lined platter.
Notes
If you like sweet hush puppies, add 2 Tablespoons of sugar to the cornmeal mix. To add more heat, don't seed the jalapenos before chopping.
If you make the hush puppies too big, the inside may not be done before the outside gets golden brown.
Nutrition Information
Yield
20
Serving Size
2 hush puppies
Amount Per Serving
Calories

66
Total Fat

1g
Saturated Fat

0g
Trans Fat

0g
Unsaturated Fat

1g
Cholesterol

20mg
Sodium

230mg
Carbohydrates

11g
Fiber

1g
Sugar

2g
Protein

3g