I have such fond memories of my mom making squash patties when I was growing up. These patties (or fritters) are crispy on the outside and tender on the inside. They're so good!
This post may contain affiliate links. As an Amazon Associate, I earn from qualifying purchases.
I'm such a squash lover, especially summer squash, fresh from the garden. Whether I'm sautéing squash with zucchini and onions (so good when you cook them to a golden brown) or making squash patties, it's one of my favorite summertime sides.
I remember mom always telling me to pick yellow crookneck squash when they are small and tender. If they are allowed to get too big, they end up being tough.
These days you can buy yellow squash pretty much year-round, but nothing beats fresh from the garden squash. If you don't have a garden, support your local farmers by buying fresh vegetables from farm stands or farmer's markets.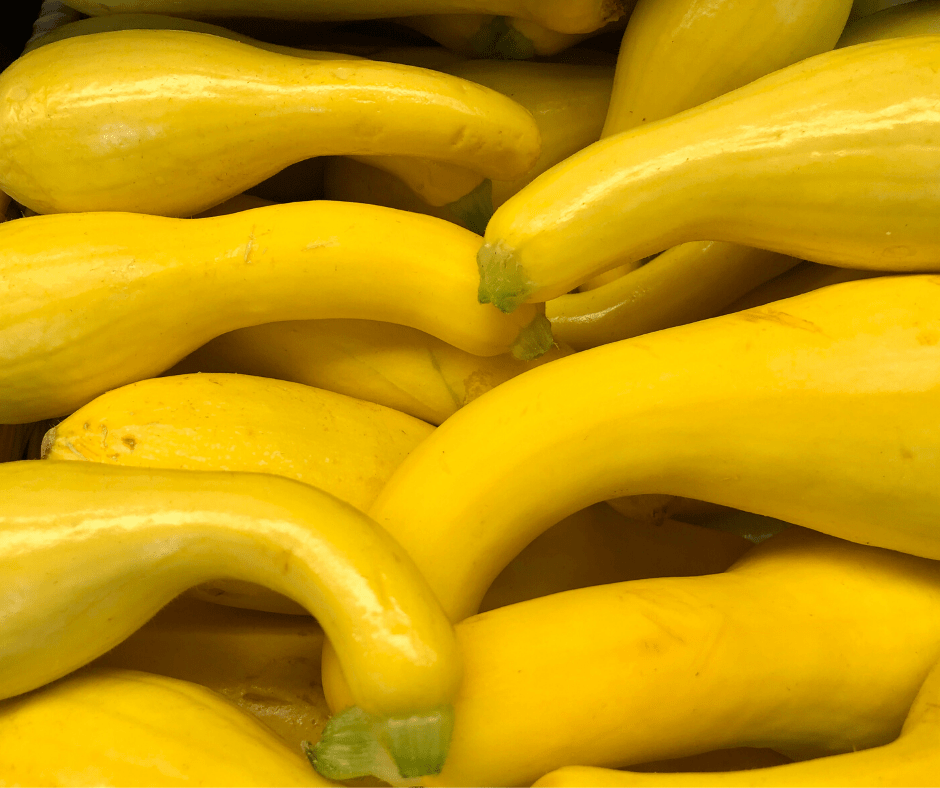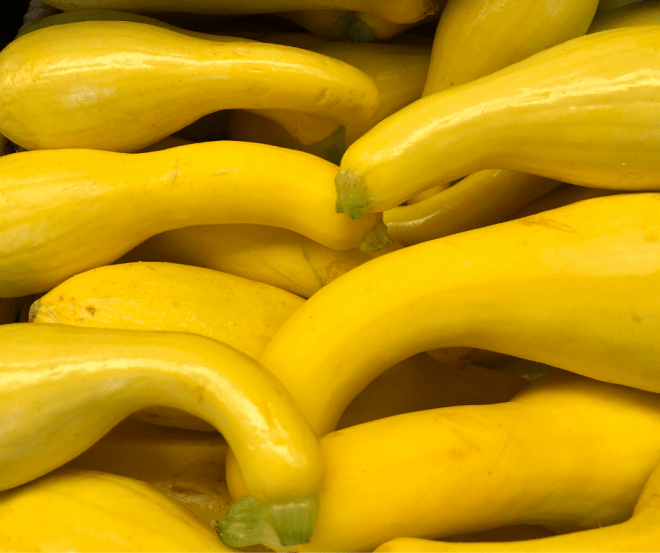 Mom's Squash Patties
I was chatting with my sister, Melinda, one day and we were talking about all our favorite foods mom used to make and how we wished we had written down all of her recipes before she passed. I mentioned squash patties and my sister said, "Oh, I have that one." If I recall, I may have shed a few happy tears!
This is mom's hand-written recipe. (Yes, I do have tears in my eyes!)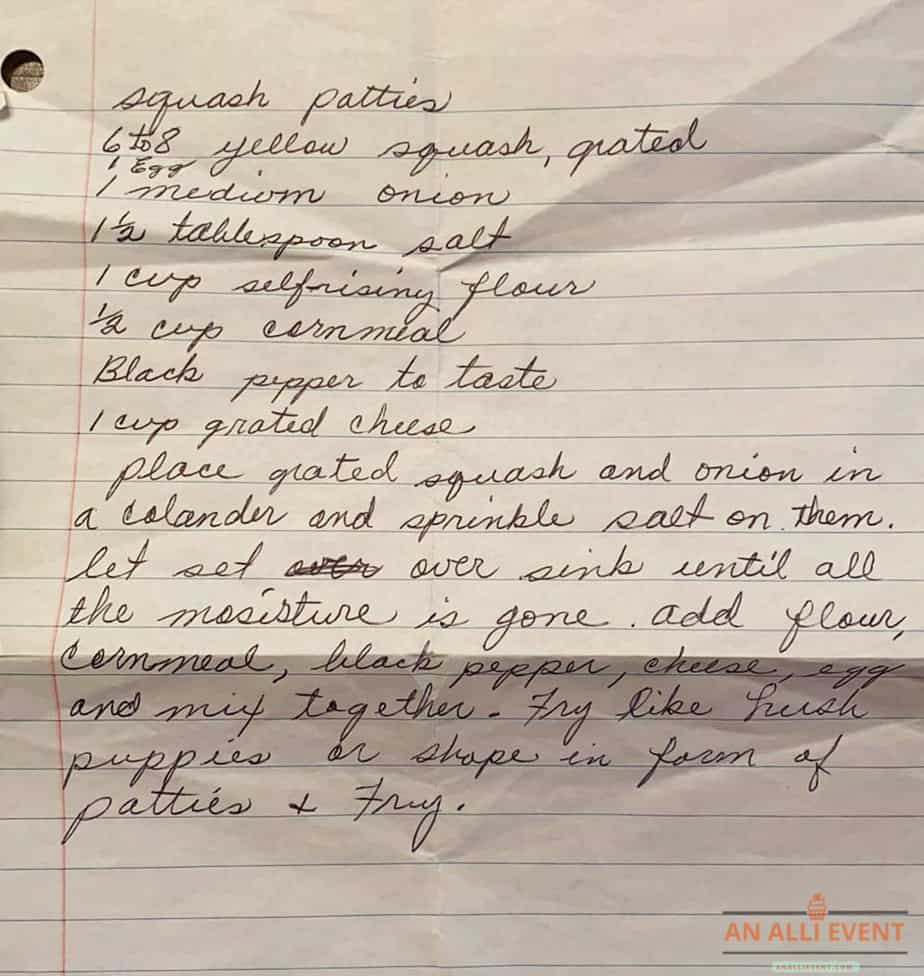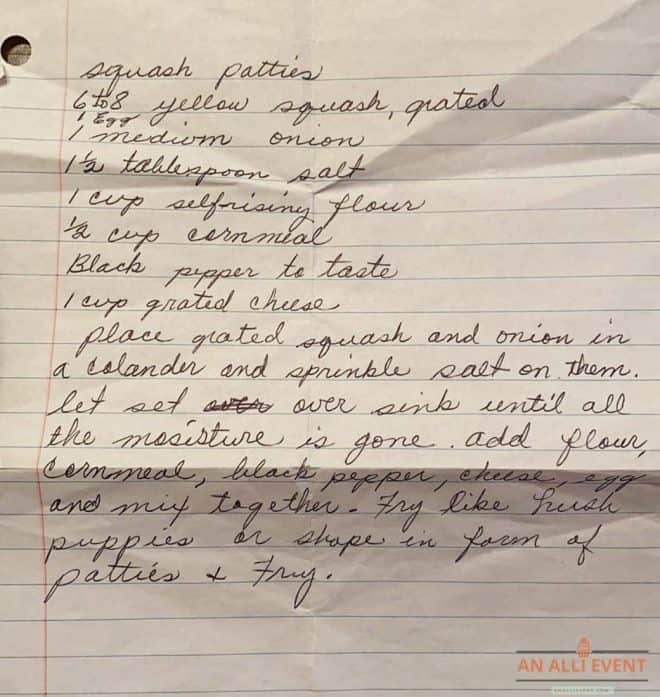 Ingredients for Squash Patties
You'll find the complete recipe down below, but here are the ingredients at a glance:
Yellow Squash, grated – Look for medium/small yellow squash.
Onion, grated
Salt
Self-Rising flour
Cornmeal
Black pepper
Shredded cheddar cheese
How To Make Squash Patties
I use a box-type grater like this to grate the squash and onion. It's important to salt the grated squash and onion and place it in a colander for at least 15 minutes. I have metal, but I love this collapsable colander.
After 15 minutes, I press with paper towels to remove any remaining moisture. Do not skip the colander step or the squash will be too watery to hold together.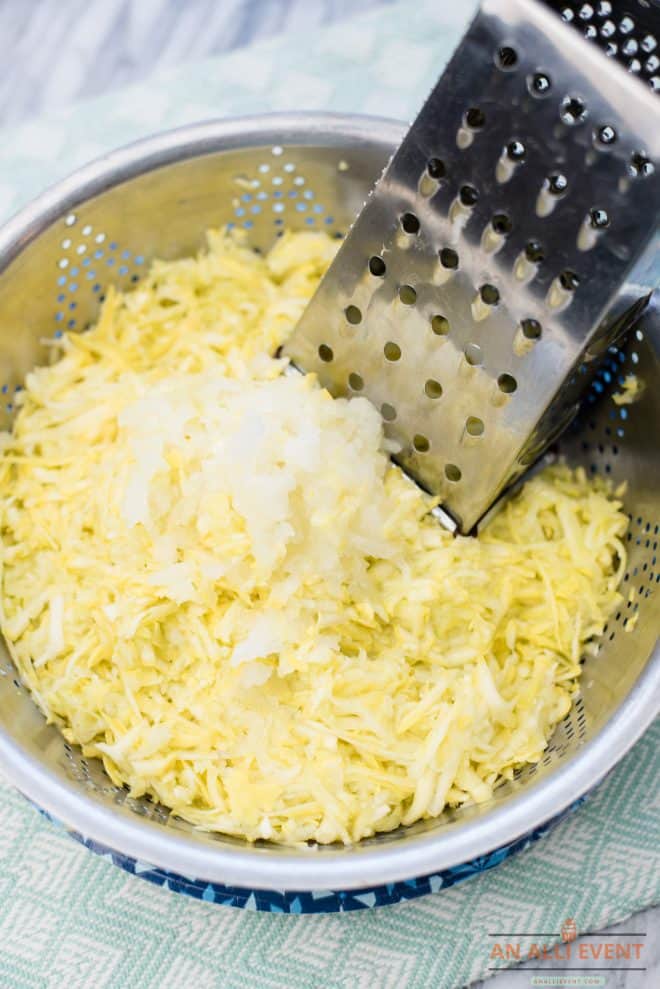 In a bowl, mix the grated squash and onion with the remaining ingredients. Form the squash into thin patties and pan-fry on medium heat in a little vegetable oil until golden brown and crispy – about 2 minutes per side.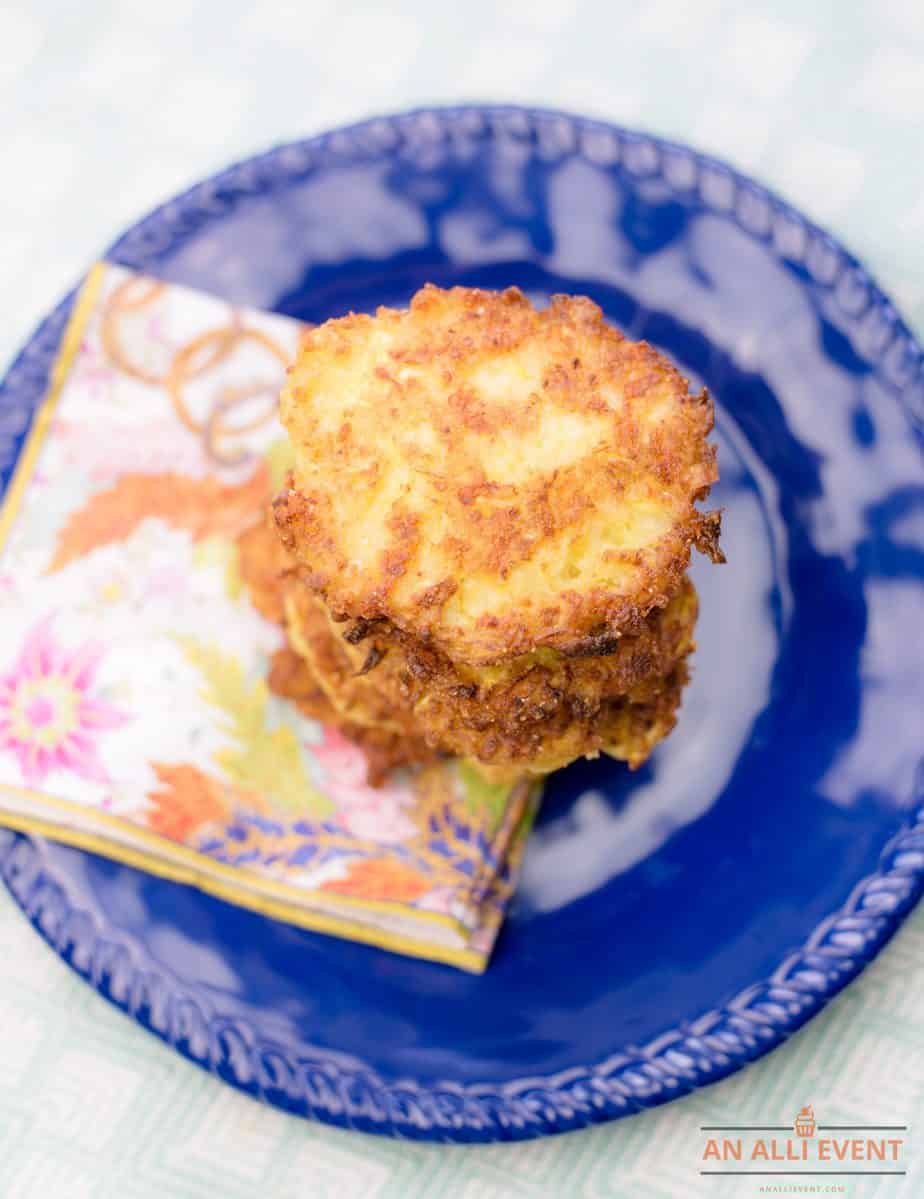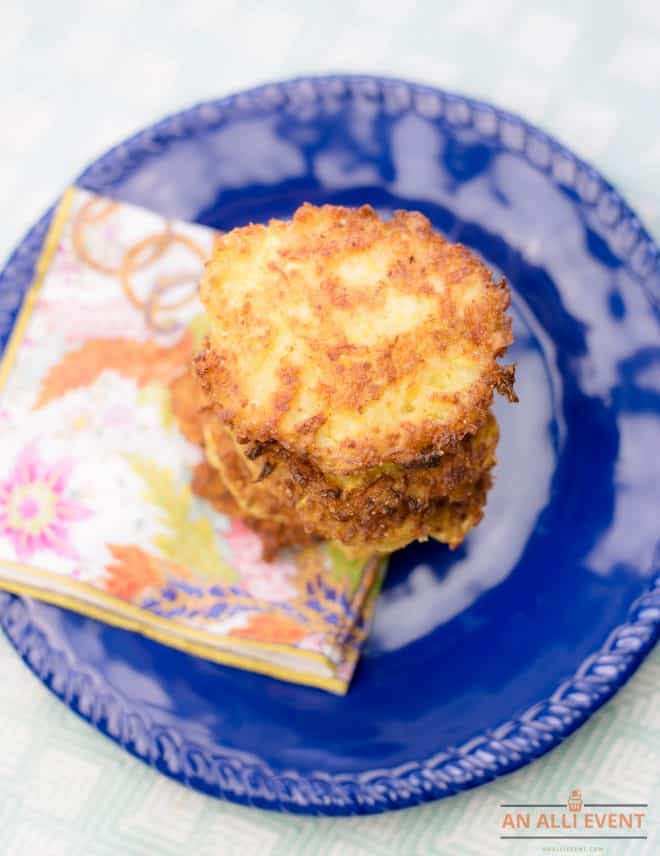 This past weekend, I served squash patties alongside my husband's grilled chicken and baked potatoes. Yum!
You May Also Like These Recipes
Yield: 6 servings
Squash Patties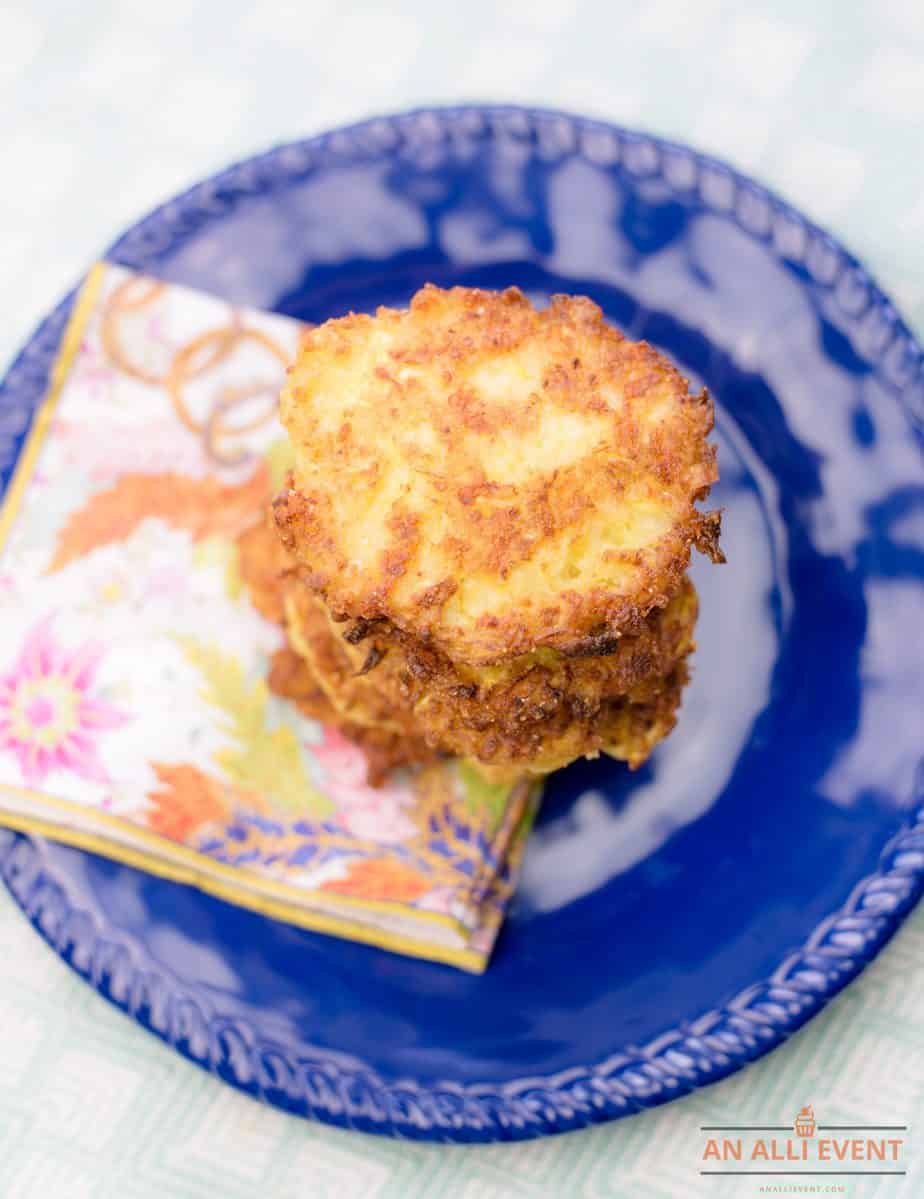 Squash Patties (or fritters) are a great way to use fresh squash during the summer months. The patties are crisp on the outside and tender on the inside.
Ingredients
6 medium/small yellow squash, grated
1 medium onion, grated
1 Tablespoon salt
Black pepper to taste
1 egg
1 cup self-rising flour
1/2 cup cornmeal
1 cup cheddar cheese, shredded
2 Tablespoons oil, for frying
Instructions
Place the grated squash and onion in a colander. Sprinkle with salt and set in the sink until well-drained (about 15-20 minutes). Then, press with paper towels to squeeze out any remaining moisture.
In a medium bowl, mix together the flour, cornmeal, black pepper, cheese, egg, and squash.
In a skillet, heat oil on medium. Form heaping tablespoons into thin patties and fry for about 2-3 minutes on both sides or until golden brown. Serve warm.
Notes
We always pick small to medium yellow crookneck squash from the garden. If they are allowed to get too big, they end up being tough. 
Nutrition Information
Yield
6
Serving Size
1
Amount Per Serving
Calories

316
Total Fat

13g
Saturated Fat

4g
Trans Fat

0g
Unsaturated Fat

8g
Cholesterol

50mg
Sodium

1448mg
Carbohydrates

41g
Fiber

6g
Sugar

10g
Protein

12g